When kids get interested in cricket for the first time, it seems like almost of them want to be a star batsman who is capable of winning games singlehandedly! This was definitely true in my case. I grew up idolising players like Kevin Pietersen and Marcus Trescothick, so I was a huge fan of attacking batsmen. Years ago, before one day cricket gained the popularity it enjoys now, children in cricket playing nations may have idolised different kinds of batsmen. For example, Geoffrey Boycott in England, Sunil Gavaskar in India and Greg Chappell in Australia! All of these players are legends of the game, but the definition of what it means to be a batsman has evolved since they were in their prime!
In this post I'll give you an introduction on what the different types of batsmen are, and we'll also look at how their roles differ when playing test cricket and limited overs cricket. As we go through, we'll look at some famous international batsmen and look at what skills they have that makes them suitable for their roles! First however, let's answer the main question…
What are the different types of batsmen in cricket?
At a very general level it can be argued that there are three types of batsman in cricket. These are top order batsmen, middle order batsmen and lower order batsmen. However, each type of batsman will have different roles within each different format of the sport. For example, a top order batsman in test match cricket has a very different role to a top order batsman playing T20 cricket.
Additionally, there are also left handed and right handed batsmen. Right handed batsmen have their left hand at the top of the bat handle, and have their left foot furthest down the wicket. Left handed batsmen are the opposite, they have their right hand at the top of the bat handle and stand with their right foot furthest down the wicket.
Let's now take a look at each format of cricket and look at the different types of batsmen that you'll commonly see within each of them.
What Are The Different Types Of Batsmen In Test Cricket?
Test cricket is the most traditional form of the game, with each match lasting for a maximum of 5 days. Because games are so long, this often requires cricket teams to pick specific batsmen with certain batting styles that allow them to play long, game changing innings.
Top Order Batsmen In Test Cricket
Top order batsmen in test cricket and other long formats of the sport are usually the batsmen who come in at numbers 1 – 3 in the batting order. Their main responsibilities are as follows:
See off the new ball – When the ball is new it is at its most dangerous, so top order batsmen will try to bat for enough time to allow the ball to deteriorate.
Accumulate runs steadily – In test cricket there isn't huge pressure on top order batsmen to get their team off to a flying start. A steady accumulation of runs is often the better (and safer!) way to go.
Keep wickets in hand – If all three top order batsmen get dismissed quickly at the start of an innings, this can put immense pressure on the middle and lower order to score runs. Therefore, many top order batsmen will try not to play too many reckless shots early in their innings to avoid unnecessary wickets.
A current player that I think is the perfect top order batsman is the Indian opener Rohit Sharma. Although he is more known for his explosive batting in the shorter formats of the game, Rohit has the ability to transition himself into the perfect test opener once the red ball matches come around. Earlier this year, the Indian test team came over to England to play in very tough batting conditions, and Rohit showed his class against the moving ball – averaging an impressive 52 runs per innings! In my opinion, that series really saw Rohit establish himself as a world class test opener. Up to that point, he'd performed exceptionally in India but had failed to score a century abroad!
Rohit has a very classical batting technique and leaves the ball exceptionally well outside the off stump – a skill that is absolutely vital when opening the batting in tough batting conditions. He makes batting look incredibly easy sometimes due to the quickness with which he picks up the line and length of the ball, and as a result he rarely looks too troubled when playing against very quick bowlers. What makes him so effective however is the number of shots he has at his disposal. Once he has gotten himself in and seen off the new ball, he is capable of scoring runs anywhere. Whether that be beautiful, piercing cover drives, or a swiftly hit pull shot to the mid-wicket boundary. Additionally, he's a very good player of spin and loves to hit the ball over the top for six – which is exactly how he went to his hundred in England recently!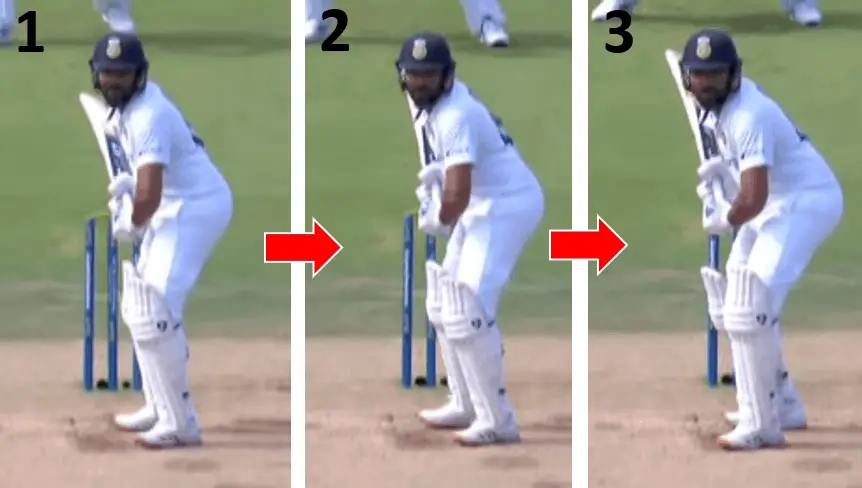 Batting at number 3 is slightly different to opening, and the batsman that bats at number 3 in tests will usually be a hybrid between a middle order player and an opener. This is also the position in which many teams will place their best batsman. The perfect number 3's in my opinion were guys like Ricky Ponting and Rahul Dravid. Whenever England came up against India or Australia during their era's they were the two batsmen I was most afraid of!
If you want to know what a great top order test batsman looks like, look no further than guys like Rohit, Rahul and Ricky! In addition to that, if you want some tips that will help you become a better opening batsman – click here!
Middle Order Batsmen In Test Cricket
Middle order batsmen are usually the ones that bat from number 4 to number 7 in a cricket team. Often this will include a wicketkeeper batsman, who will usually bat at number 6 or number 7. The main responsibilities of a middle order batsman in test cricket are as follows:
To anchor the innings and see off the new ball if early wickets are lost
To rotate the strike efficiently and score runs at a good rate once the ball gets older
To bat effectively against the spinning ball and against high pace in between the new balls
Bat with and score runs with the lower order batsmen if necessary
One of my favourite middle order batsmen is Joe Root – which you'll know if you've spent any time reading my posts on this site!
Joe has everything that a middle order batsman needs to be successful. Against pace bowling he has wonderful rhythm and excels against the short ball, meaning that fast bowlers can't launch a full-scale short ball attack against him without being hit away for runs. He's also very adept at hitting the ball through the off side and regularly plays the most beautiful cover drives. Perhaps his most signature shot though is the back foot glide through the slip cordon and down to third man. For this shot, Joe lets the ball come to him and simply glances it off the face of the bat with soft hands. Fielders in the slips must think that he has edged the ball, but it is a very deliberate shot and gets him a lot of runs!
English batsmen aren't necessarily known for being excellent players of spin as we don't bat in spinning conditions all that regularly – but Root is probably the finest player of spin bowling England have ever produced. You only have to look at his batting averages in the sub-continent to know this! At the time of writing, he averages 65 across 5 games when batting in Sri Lanka, and during England's tour in 2021 he averaged 106 across both games. In India he averages 50 in the 10 tests he's played there – which is a very impressive return!
The key to Root's ability to play spin is the way he picks the length so early. This allows him to get himself in position on the front or back foot nice and quickly, and ensures he has plenty of time to play his shot. The other thing that contributes to Joe playing so well against spin is the amount of shots he can play. Some batsmen can become very one dimensional against spin bowling which makes it easy for the bowlers to bring the fielders in and close off their scoring areas – but this isn't the case with Root. His sweep shot and his reverse sweep shot are both deadly, and he can hit them anywhere behind square on both sides of the wicket. His innings' in Sri Lanka and India in 2021 were a true masterclass of sweeping – rarely did you see him miss one! He's also equally comfortable playing the ball in front of the square on the off side and leg side. If you want to learn a bit more about what it takes to play spin bowling well – click here!

All of Joe's skills allow him to score at a very quick rate and helps him to put the pressure on the opposition bowlers. He's an incredibly hard batsman to pin down! Feel free to watch some highlights of Root's recent innings' if you want to know how a high class middle order batsman in test cricket plays the game.
Lower Order Batsmen In Test Cricket
Lower order batsmen are usually the ones that bat from number 8 to number 11 in a cricket team. The batters in these positions are likely to be specialist bowlers or all-rounders. Nowadays though, all lower order batsmen are expected to be able to contribute with the bat, and as a result they will all work pretty hard on their batting during net sessions. In previous eras, batsmen in these positions in the order would have struggled to stick around at the crease for any significant length of time. The main responsibilities of a lower order batsman in test cricket are as follows:
To protect their wicket and provide a partner for the top/middle order batsmen to bat with
To bat aggressively and try to score as many runs as quickly as possible if they are batting with other lower order batsmen
Because lower order batsmen are often better at bowling than they are at batting, there aren't many I can really put the spotlight on in this section. However, most test teams like to have a bowling all rounder at number 8 in the order who is a decent batsman – and there are a few good ones on the international scene right now.
My favourite lower order batsmen are guys like Chris Woakes and Ravi Ashwin. Opposition teams will often think that they are 'bowling at the tail' when either of these players walk to the crease – but they often end up regretting feeling that way! At the time of writing, Woakes averages just under 28 with the bat in tests in 39 matches and has one century and six half-centuries. I've lost count of the number of vital innings he has played, whether that be supporting the top order batsmen or scoring vital runs himself.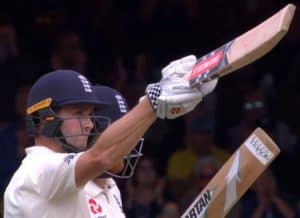 Ravi Ashwin also averages just under 28 in tests at the time of writing, and he has played 79 tests in total. In this time he's scored five centuries and 11 half-centuries – which is an incredibly impressive feat! All test match teams love to have players in their lower order that are capable of scoring runs and turning the tide of a match, and India and England are very well stocked in this department. India have Jadeja, Ashwin and Thakur who can all make an impact with the bat, and England have players like Woakes, Curran, Overton and Robinson to name but a few!
If you're a bowler, remember not to give up on your batting! Being a good batsman as well as a good bowler could help you to get into the starting 11 in the place of more one dimensional players!
What Are The Different Types Of Batsmen In Limited Overs Cricket?
In 50 over and 20 over cricket, batsmen have very different responsibilities when compared to test cricket. A team innings in these shorter forms of the game only lasts a few hours, and the aim is to score as many runs as quickly as possible. This has led to the rise of explosive players who are capable of scoring at a fast rate from ball number one. Let's have a look at the roles of the different players as well as some famous examples below…
Top Order Batsmen In Limited Overs Cricket
Top order batsmen in 50 over and 20 over cricket are also the batsmen who come in at numbers 1 – 3 in the batting order. Batting in the top order in limited overs cricket is very different to test cricket because of the importance of the 'powerplay'. The powerplay is a period at the start of the innings (usually 4 overs long in T20's and 10 overs long in 50 over cricket) in which the bowling team can have only a couple of fielders on the boundary. This means the majority of fielders will be close to the bat or 'inside the ring'. Once the powerplay is over, the fielding team can position more fielders on the boundary. Their main responsibilities are as follows:
Get the batting side off to a fast start in the powerplay
Keep wickets in hand if possible
Keep rotating the strike – don't just look for boundaries
See off the movement of the new ball when it swings in the first few overs
My favourite top order batsman to watch in limited overs cricket is probably Jonny Bairstow. Jonny originally batted in the middle order for England when he first got into the side, but he was promoted to open with Jason Roy in advance of the 2019 ODI world cup. Since then, the two of them have formed what is probably the deadliest opening partnership in ODI cricket history.
As an opening batsman in ODI cricket, Jonny averages 50 at the time of writing. Perhaps the most impressive thing though is his career strike rate, which is higher than a run a ball at 109. This means that for every 100 deliveries Jonny faces in ODI's, he scores 109 runs. When you consider that other elite opening batsmen in ODI cricket like Rohit Sharma and Quinton De Kock have strike rates of 88 and 95 respectively, you can see just how quickly Jonny Bairstow scores his runs. His high average combined with his excellent strike rate show that he's probably one of the greatest openers of all time in limited overs cricket.
So, what makes him so great? Primarily, I think it's the fact that he can hit the ball anywhere on the ground. As a result, bowlers just aren't sure where to bowl to him! In recent years, he's taken a middle/middle & leg stump guard (click here if you're not sure what that is), and this has allowed him to access the off side a lot more during the powerplay. If the bowler bowls slightly wide of his body on the off side, he can throw his hands at the ball and flay it through the gaps, or hit it over the top. His excellent hand-eye co-ordination ensures that he gets it right more often than not! He's also naturally bottom hand dominant, so this makes him excellent at hitting the ball through the leg side.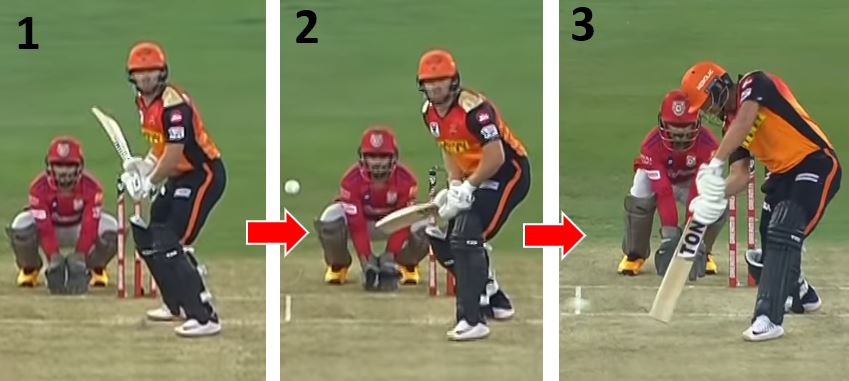 For years in limited overs cricket opposition teams used their spin bowlers to slow England's batsmen down. Because England players didn't come up against too many high quality spinners, they never seemed quite sure of how to attack them. As a result, the scoring rate always slowed! Jonny Bairstow is a different beast though. He's an excellent player of spin bowling and will often try to hit them out of the attack early – putting the bowling side on the back foot. I can remember some savage innings' he has played against the likes of Kuldeep Yadav and Yuzvendra Chahal, and a lot of this was due to his ultra-aggressive approach and willingness to use his feet and hit over the top.
If you want to know what it looks like to be one of the most destructive top order batsmen in the world in white ball cricket, check out some of Jonny's innings for England, Yorkshire or the Sunrisers in the last few years!
Middle Order Batsmen In Limited Overs Cricket
Middle order batsmen are usually the players that bat at numbers 4-7 in a limited overs batting line up. The players in these positions need to be incredibly versatile due to the number of different situations they can find themselves in over the course of a match. The main responsibilities of a middle order batsman in limited overs cricket are as follows:
To keep the scoring rate high through the middle overs of the match by hitting boundaries
To play an accumulation role and keep wickets in hand if early wickets were lost
To ensure they are batting at the end of the innings
To rotate the strike and keep the scoreboard ticking over
To launch an all out attack at the end of the innings when quick runs are required
AB de Villiers is probably my favourite limited overs middle order batsman of all time. If you ever watched him performing in the IPL or for South Africa in his prime, you'll know exactly why I chose him! When batting in the middle order in ODI cricket, AB averaged a mammoth 58 runs per innings at over a run a ball. An average like this is not something you see very often in white ball cricket and shows what a special player he was. At the time of writing he averages almost 40 in T20 matches, and these runs come at a strike rate of 150. Not only does he score a lot of runs, he gets them at a fantastic rate!
The clue to why AB was so good is in his nickname – Mr 360. He received this nickname because he was one of cricket's first 360-degree players, meaning that he was capable of hitting boundaries and scoring runs anywhere on the field. When he was at his best, it seemed like he could hit any ball from any bowler anywhere that he chose, and this made him an absolute nightmare to bowl to. Whether it was scooping the ball over the keeper's head, playing reverse sweeps against fast bowlers, or going down on one knee and smacking the bowler into the stands over mid-wicket, he was always trying to ruin a bowler's day.
If his team gets off to a solid start and provides a platform for him, AB is an excellent boundary hitter who doesn't take long to get himself in when he arrives at the crease. In 2015, he hit a century in an ODI from just 31 balls – which is the fastest century of all time in ODI cricket. This tells you all you need to know about his ball striking ability! If his team gets off to a rocky start with a few wickets lost early, then his ability to accumulate runs, build a foundation and then launch an attack later in the innings is second to none.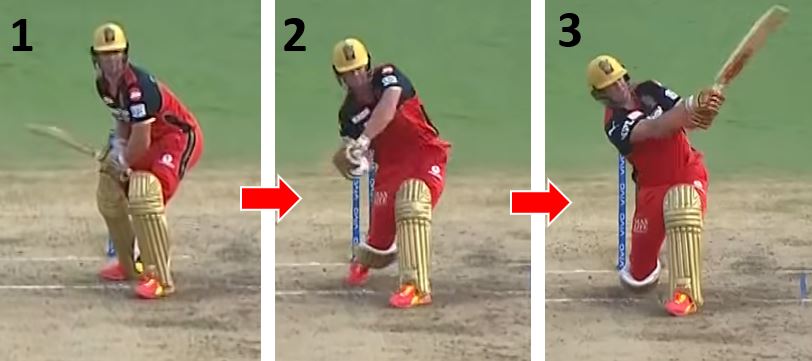 Even though he made England's bowlers suffer on many occasions, I've always been a huge fan of AB de Villiers. If you've never seen him play, make sure you check out some of his all time greatest innings' on youtube. They're all a joy to watch!
Lower Order Batsmen In Limited Overs Cricket
Lower order batsmen in limited overs cricket are usually numbers 8 – 11 in the batting order. Most coaches and team captains will be hoping that the top order and middle order batsmen do all of the batting in limited overs matches, but of course there are many situations where the lower order batsmen end up being called upon! Therefore, they need to be ready when that happens! The main responsibilities of a lower order batsman in limited overs cricket are as follows:
Score as many boundaries as possible at the end of an innings – especially when batting with another lower order batsman
Take singles and give the strike back to your partner if you're batting with a top/middle order batsman
Lower order batsmen aren't asked to bat as much in ODI's and T20's as they are in tests, so it's rare for people to have a favourite lower order player! However, there are countless players who've played match winning innings' while batting at numbers 8 – 11 in the order. Players like Chris Jordan of England, Harbhajan Singh of India, Rashid Khan of Afghanistan and Chris Morris of South Africa have all batted brilliantly at number 8 in ODI's and T20's, and every single one of them is capable of hitting multiple boundaries and taking the game away from a bowling side if they don't bowl well enough to them at the death.
If you're a bowler and you want to make it in T20/ODI cricket, then make sure you practice your batting enough so that you have the ability to strike a few sixes at the back end of an innings. These kinds of abilities really add to your value as a player which is never a bad thing! If you're someone who struggles to hit boundaries, then you should probably check out the in depth guide I put together on how to hit the ball further in cricket – click here if you're interested!
Conclusion
To close out this post we can say that there are three main types of batsmen; top order batsmen, middle order batsmen and lower order batsmen. The roles required of each of these groups of batsmen differs slightly depending on what form of the game they are playing! Additionally, within these three types there are left handed and right handed players, and there are also some players who are slightly more aggressive/conservative than others. For example, Ajinkya Rahane and Rishabh Pant are both technically middle order batsmen who play similar roles, but Pant is a much more naturally aggressive player.
As batsmen we all have to play to our strengths, so if you feel that your skills are particularly suited to batting in the top order, then make sure your coach knows that is where you want to bat!