Cricket is a game that has an incredibly deep, rich history. Especially when it comes to test cricket! As a result, it is heavily laden with statistics that go back centuries. One of my favourite aspects of the sport is diving into the career stats of players from the early 1900's and trying to judge how these players stack up to the ones that we watch today. Over the years, this search for knowledge has led me to become obsessed with learning about players like Don Bradman, Wally Hammond, Len Hutton and Wilfred Rhodes to name but a few!
One thing you'll notice when you look at the career stats of all these players is that they have one set of career records for 'first class' cricket and a completely different one for test cricket. The same goes for modern players! It's no secret that test cricket and first class cricket are closely linked, but what exactly is the difference between them? That's what I'll be giving you the lowdown on in this post.
So, what is the difference between test cricket and first class cricket?
First class cricket is an umbrella term which includes 3-day, 4-day and 5-day games. Test matches last for 5 days, so test matches are a form of first class cricket! This means that all test matches are counted as first class games. However, not all first class games are test matches. They include 3 & 4-day games too.
These things are usually easier to understand with an example, so here goes! The picture below shows the career batting stats for Kevin Pietersen, who is a legend of the English game. If you look at the red sections of the diagram, you'll see his records in test cricket and first class cricket. Pietersen played 217 first class games in his career, and 104 test matches. Because test matches are a form of first class cricket, the 104 test matches that he played for England are counted within the 217 first class games. This means that apart from test matches, he played 113 other first class games – most of which were 4-day games in the county championship in England.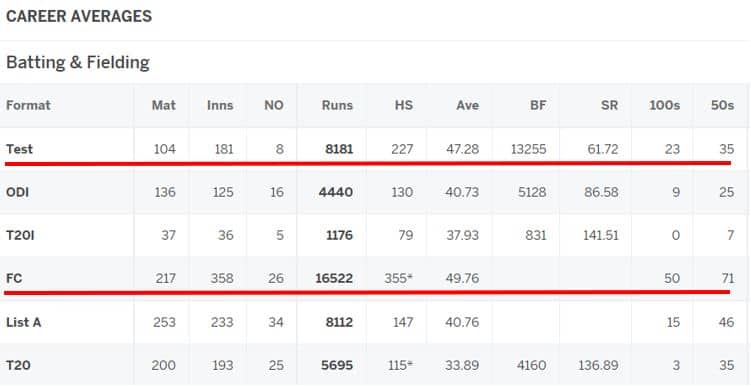 He scored a total of 50 first class centuries, and 23 of these came in test matches for England. This means that he scored 27 other centuries in the other first class games that he played. Again, most of these were scored in the county championship for Notts, Hampshire and Surrey.
So, to summarise, first class cricket and test cricket are heavily linked. Test cricket is just one version of first class cricket! Some of the other versions of first class cricket are 3-day and 4-day matches. Therefore, first class cricket has a much broader definition than test cricket does.
What Is First Class Cricket?
Now that we know what the main differences between first class and test cricket are, I think it would be worth me explaining exactly what conditions need to be met in order for a game to be counted as a first class match.
For a match to be counted as first class, it will usually have to have all of the following characteristics:
The game will be scheduled to last for 3 days or longer
Each of the teams taking part will have 11 players
Each side will be permitted to bat for a maximum of 2 innings
The match is played on natural turf – not artificial or concrete
The match should be played at a ground which is satisfactory
The match must be played according to the laws of cricket, laid out by the ICC
The governing body in the appropriate nation or the ICC itself must recognise the match as a first class match
If any of the conditions above are not met, then the game will not be counted as a first class match.
What Are Some Different First Class Cricket Teams In Different Countries?
If you feel like watching some first class cricket, then here are some teams from a few different countries that you may want to look out for!
In England, you should keep an eye on teams like:
The England test match teams
Yorkshire
Lancashire
Surrey
Sussex
In Australia, some of the teams to bear in mind are:
The Australian test match teams
New South Wales
Western Australia
South Australia
Queensland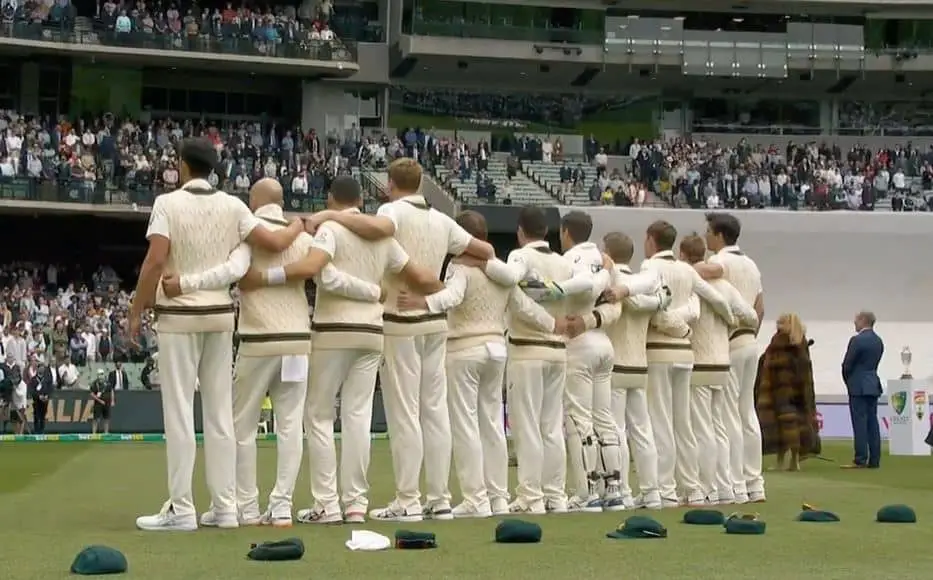 In India, look out for some of these:
The Indian test match teams
Mumbai
Kerala
Bengal
Tamil Nadu
Here are some first class teams to watch in New Zealand:
The New Zealand test match teams
Auckland
Wellington
Otago
Canterbury
And finally, here are some of my favourite first class teams in South Africa:
The South African test match teams
Dolphins
Lions
Titans
Western Province
How Many Overs Are In First Class Cricket?
There is no set number of overs for a first class match, however, there is usually a maximum of 90 overs per day of a first class game. This means that:
In a 3-day first class match, there will usually be a maximum of 270 overs in the game
In a 4-day first class match, there will usually be a maximum of 360 overs in the game
In a 5-day first class match, there will usually be a maximum of 450 overs in the game
Lastly…
For the final piece of this post, I thought I'd share a little method that you can use to tell what a player's stats are like in domestic first class cricket compared to their overall first class stats.
For this, lets use Sachin Tendulkar's statistics as an example. You can see a breakdown of his stats in the picture below. Once again, I've underlined his batting statistics in test matches and first class cricket. His first class runs consist of two things:
The runs he scored in tests for India
The runs he scored in domestic first class matches. For example, in the county championship and the Ranji trophy etc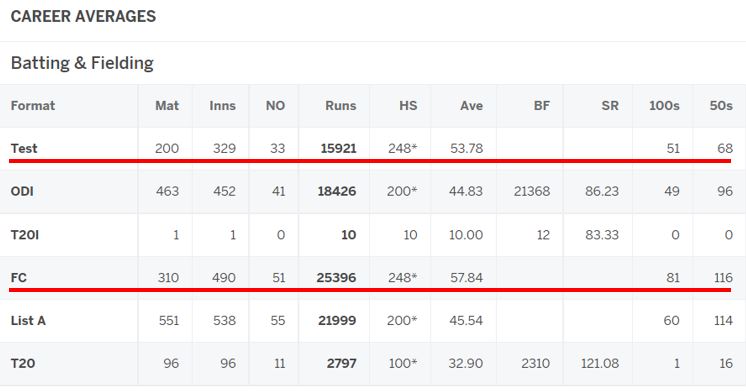 So, if we take away his test match statistics from his first class records, we will be left with the number of runs that he scored in domestic competitions!
So, from looking at the diagram you can see that Sachin scored 25,396 first class runs. 15,921 of these runs came in test matches. That means that if we subtract his test runs from his first class runs (25,396 – 15,921) we are left with a total of 9,475. This is the number of runs Sachin scored in domestic first class comps in 110 games.
From the photo you can also see that Sachin's overall first class average was 57.84, but his test average was lower at 53.78. This means that his average in domestic cricket must have been higher than 57.
Conclusion
I hope that after reading this post you have a lot better understanding of what first class and test cricket are, as well as the differences and links between them.
If you want to learn more about how the game of cricket is played, then I have tons of posts on the site that will help you out. If you'd like to know how test matches are won – click here. To learn how cricket's scoring system works – click here and read this post! If neither of those take your fancy – feel free to just have a browse!