Cricket is a sport that is always looking to innovate and change in order to move with the times. A century ago, it may not have been an odd sight to see batsmen drinking a beer or a glass of red wine during the lunch break. In fact, whilst playing an innings against Australia at the Oval in 1926, English batsman Herbert Sutcliffe had a glass of champagne brought out to him in the middle by a waiter! See the picture below for proof! This kind of thing would be absolutely unthinkable in the modern version of cricket.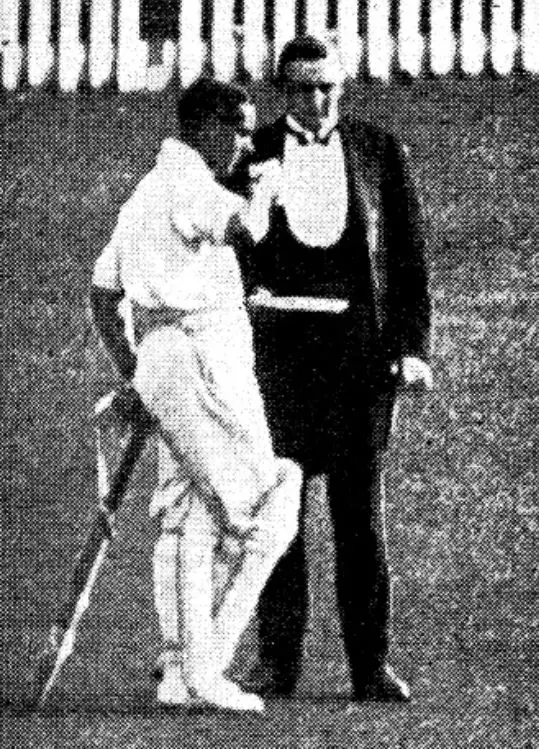 If you've watched any cricket from the 1970's or earlier, you may also notice that hardly any of the players wore helmets. This certainly represents a large difference compared to the modern day game where every batsman wears a helmet. However, many newcomers to the sport may be wondering if there are situations in which batsmen don't have to wear one! That is the information I'll be giving you in this post!
So, can you bat without a helmet in cricket?
The answer is yes, it is possible to bat without wearing a helmet in cricket. However, you will have to adhere to the rules of the team or the league that you're playing in. If your league or team requires all batsmen to wear helmets at all times, then you must obey these rules. If your team/league does not have rules regarding helmet use, it will be up to you whether you wear one or not.
If you're playing cricket with a hard ball, I would personally always recommend wearing a helmet. This applies if you're batting against fast bowling or spin bowling. The helmet is a vital piece of protective equipment and in my opinion, it's better to be safe than sorry. Even if you feel like the bowling that you're facing isn't particularly dangerous, there is always a chance that you could misjudge a delivery and it could hit you on the head. Additionally, if you miscue one of your shots, the ball could fly off the top edge of the bat and hit you on the head. Trust me – this isn't the type of hit you want to be on the end of!
When Do Professional Batsmen Choose Not To Wear Helmets?
In the modern game, there are certain moments where you be more likely to see professional cricketers batting without wearing a helmet.
If professional batsmen are batting without a helmet, this will almost always take place when a spin bowler is bowling. It is even more likely to happen when batting in hot conditions where two spin bowlers are bowling long spells from both ends! In this scenario, certain professional batsmen who have a lot of confidence in their ability to play spin comfortably will choose to bat while wearing a cap or a hat instead. Removing the helmet and replacing it with a smaller, more lightweight form of headwear helps to keep the batsman cooler (which can be incredibly important when batting for long periods in countries like India), and can help them to see the ball a bit better. It is unlikely that spin bowlers will choose to bowl a short ball, so the only way the batsman's head is at risk would be due to a miscued shot!
Virat Kohli is probably the most famous player that regularly bats without a helmet if spin bowlers are bowling. You can see a picture of this below! As soon as the spin bowlers complete their spells and fast bowling returns, Virat and other batsmen will immediately put their helmets back on and continue batting.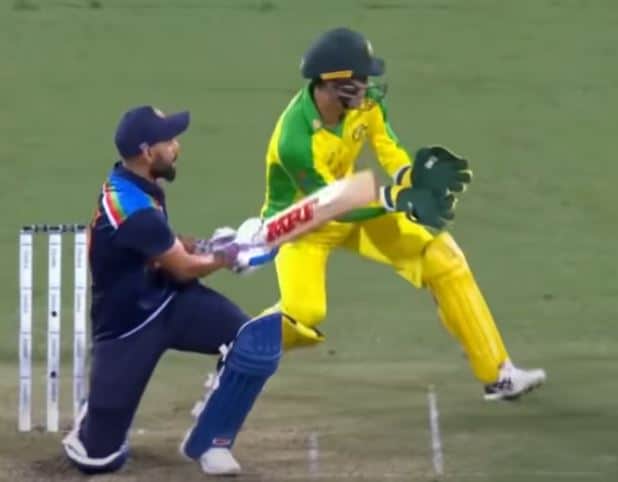 Which International Teams Are Required To Wear Helmets?
Any cricketer that represents the England cricket team is required to wear a helmet when batting or fielding close to the wicket. This rule was introduced in 2016 after a series of injuries to professional cricketers – most notably the tragic accident involving Australian batsman Phil Hughes who lost his life after being struck on the back of the head by a bouncer. You can read about the rule change here! The England Cricket Board (ECB) also extended this rule to cover the rest of the first-class game, so any first class cricketers in the country are always required to wear helmets when batting or fielding in vulnerable positions.
In recent years, high profile individuals within the sport such as Sachin Tendulkar have called on the ICC to make wearing a helmet compulsory in all forms of professional cricket. It is hoped that a move like this would vastly improve the levels of safety of the sport in general.
Recent Additions To Helmets
In the last 5 years cricket helmets have been under increased scrutiny due to several high profile incidents (such as Phil Hughes' death) as well as a larger focus on concussions suffered by batsmen when they are struck on the helmet. As a result, helmet manufacturers have introduced a few new features that help to provide even more protection for the wearer! You may have already noticed some of them! Let's have a quick look below…
Stem Guards
Stem guards are a relatively new addition to the cricket helmet. They have seen widespread use in the last 5 years and aim to eradicate the type of impact that led to Phil Hughes' death in 2014. Stem guards attach to the back of the helmet and protect the back of the neck/head area. You can see what one looks like in the photo below!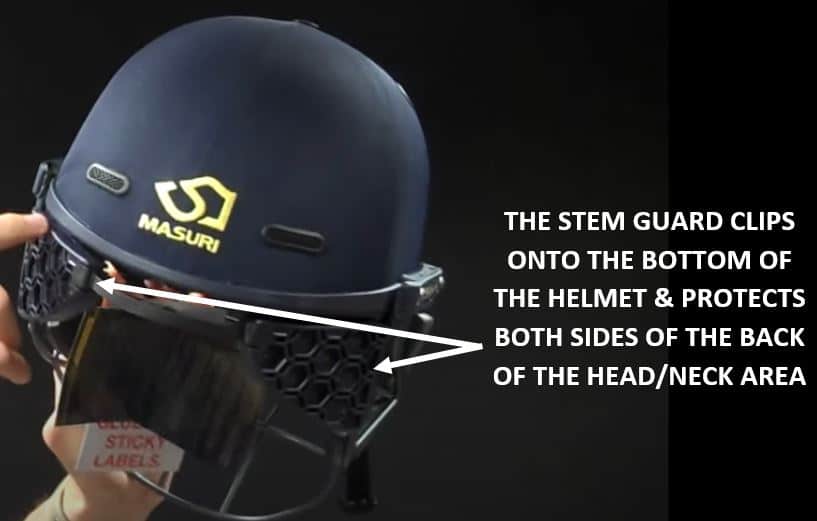 Nowadays, most helmet manufacturers will offer you the opportunity to purchase a Stem guard when you buy a helmet, so make sure you check their websites to see info on pricing. Stem guards will usually attach to the back of the helmet via the use of clips and will be removable if you choose.
New Standards Regarding The Gap Between The Peak & The Grill Of The Helmet
In the early 2010's many injuries to batsmen occurred due to the gap between the peak and the grill of the helmet being too wide. I remember Stuart Broad getting hit in the face by Varun Aaron in 2014, which led to a pretty horrendous facial injury for Broad. This occurred because the gap between the peak of the helmet and the grill allowed enough room for the ball to sneak through when bowled at high pace. Recent changes in helmet standard have looked to address this.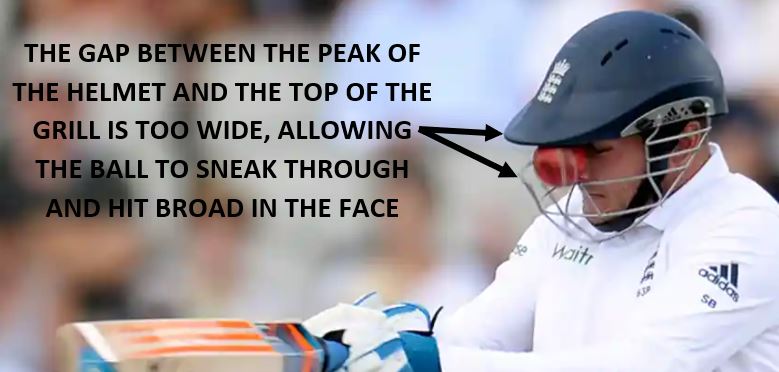 In order to meet new safety standards, it must be impossible to set the gap between the peak and grill of the helmet at a width greater than the size of the ball. In other words, the gap between the grill and the peak must always be slightly smaller than the width of a cricket ball. Helmets also have to undergo rigorous impact testing, where balls are fired at the grill/peak area at high speeds in order to ensure that they cannot sneak through the gap.
Summary
To summarise this post, most cricketers will have the option to decide whether they want to wear a helmet or not whilst batting. The exception to this comes whenever rules are imposed on them by the team that they play for, or the league that they play in. For example, the ECB have imposed a rule that requires all professional batsmen to wear helmets while batting, so this takes the element of choice away from English batsmen.
Personally, I would always recommend wearing a helmet whilst batting as there is always a chance that an accident could occur and lead to a dangerous injury. Let's face it, none of us want to be sidelined away from the game due to an injury we could have easily avoided if we had worn a helmet!