Wicket-keeping is a part of cricket that is very easy to fall in love with. Wicket-keepers play a vital role, and any young boy or girl that becomes one will ensure that they are always heavily involved in the game.  
When becoming familiar with wicket-keeping, it's natural that a lot of players have questions about how they can play the position properly. Some of these questions are technical in nature, like 'how should the keeper's feet move when trying to take a diving catch?' or 'is it better to have hard or soft hands when keeping to a spinner?' Some of the other questions will relate to the equipment that a wicket-keeper needs. For example, 'do wicket-keepers have to wear helmets?' That is the question I'll be dealing with today!
Once you've read this post, you'll be armed with all of the information you need regarding wicket-keepers and their use of helmets, and as a result you'll know exactly what equipment you or your child needs to have access to. Let's get started…
So, do wicket-keepers have to wear helmets?
There are some moments where wicket-keepers need to wear helmets, and some where they do not. If a keeper is stood up to the stumps, they should always wear a helmet with a grille (faceguard), regardless of their age or what type of bowler is bowling. If a keeper is stood back, they can remove the helmet if they wish.
When a wicket-keeper is stood up to the stumps they are at much higher risk of getting hit in the head, and this is why it is recommended that all keepers (of any age group) who are standing this close should wear a helmet. If the batsman gets a top edge on the ball and the keeper is standing right behind the stumps without a helmet on, there is a high chance that the cricket ball could hit them in the face and do some serious damage. Because the keeper is stood so close, they have almost no time to react and get themselves out of the way. Wearing a helmet that has a grille is a great way of staying safe whilst fielding in a high-risk position like this. If you're a coach of a junior team, or the parent of a junior cricketer, make sure that the child in your care playing wicket-keeper always wears a helmet when up to the stumps.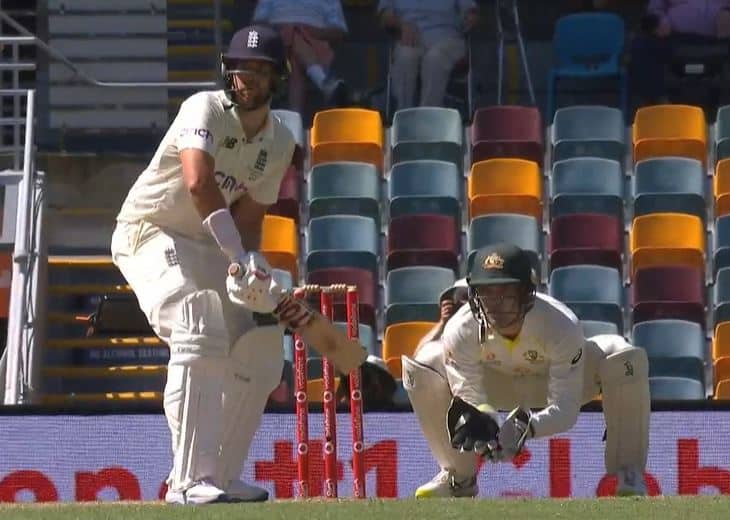 When the keeper is stood back, they are much further away from the stumps. As a result, they have plenty of time to adjust their body position and move their head out of the way before the ball reaches them. This is why helmets aren't often used by keepers that are standing back. Hits to the head can still happen when stood in this position, but it rarely happens. So, each keeper should make a choice as to whether they want to wear a helmet when stood back or not. If they do choose not to wear the helmet, most keepers will switch this for a cap or a hat as shown in the photo below!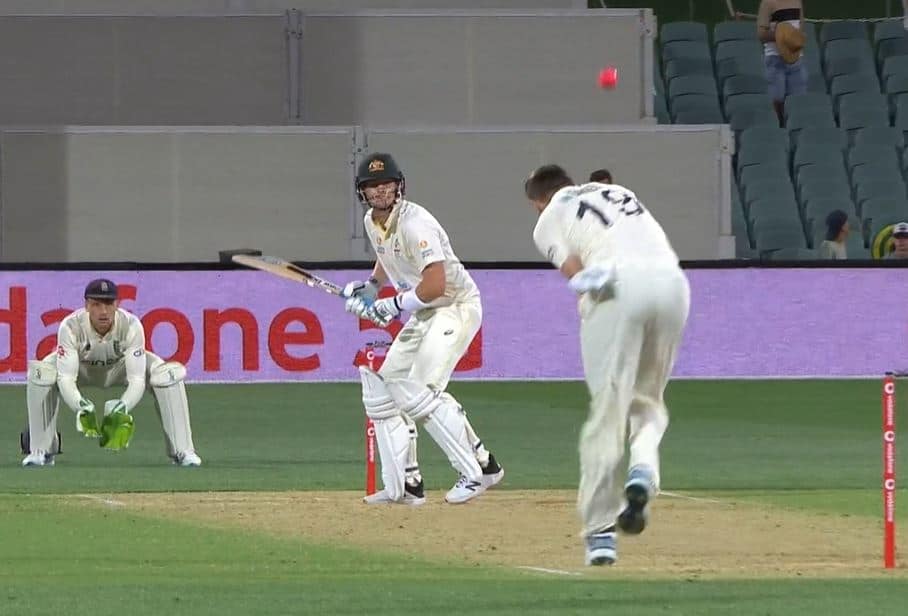 Are There Any Cricket Laws Regarding The Use Of Helmets For Wicket-Keepers?
At the time of writing, the International Cricket Council (ICC) has not created any laws that mandate the use of helmets for wicket-keepers. Instead, the ICC allows each individual cricketing nation such as England, India and Australia to decide for themselves what kind of helmet-wearing rules they wish to impose.
For example, in 2016 the English Cricket Board (ECB) made it mandatory for all wicket-keepers that are stood closer than 8 yards from the stumps to wear a helmet in first class cricket. Other countries such as Australia have also made this mandatory for their professional wicket-keepers if they are up to the stumps.
If you're a club cricketer or you have a child that is playing club cricket, start with the general rule that all keepers standing up to the stumps need to wear a helmet. Then, check with your club coaches to see if there are any additional rules in your league regarding the use of helmets for keepers. If there are any additional rules imposed by your club or the league you play in, then you should comply with them.
What Sort Of Helmets Do Wicket-Keepers Wear?
Wicket-keepers wear helmets that are very similar (if not identical) to the ones that batsmen will wear whilst batting. If a wicket-keeper owns a helmet that they use for batting, they will often just choose to use the same one for keeping too. However, some major cricket helmet brands like Masuri and Shrey have started to offer slightly modified helmets specifically for wicket-keepers, which allow for increased breathability and often weigh a bit less. So, if you'd like to own one helmet for batting and one for wicket-keeping, have a look for these on google!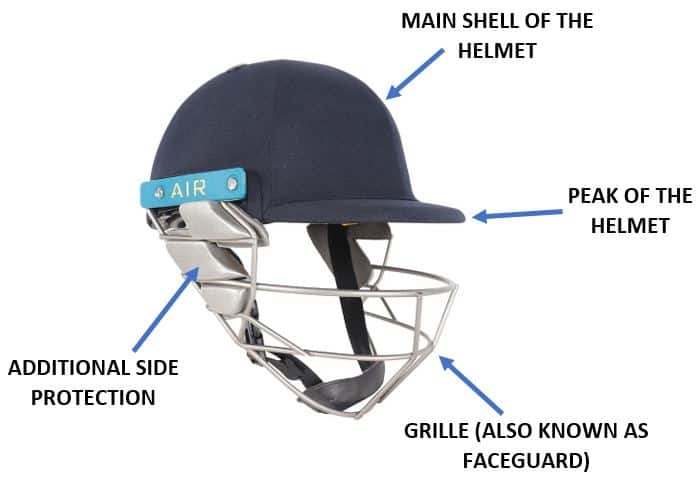 The most important thing to watch out for when purchasing a helmet for wicket-keeping (or batting) is that the helmet meets the British Standard – BS7928:2013. A helmet that meets this standard will have been rigorously tested to prove that cricket balls cannot penetrate the gap between the peak of the helmet and the grille. Before this standard was introduced, many cricketers were injured when the gap between the peak of the helmet and the grille was set too wide, allowing the ball to fit through and cause nasty injuries to the face of batsmen and keepers.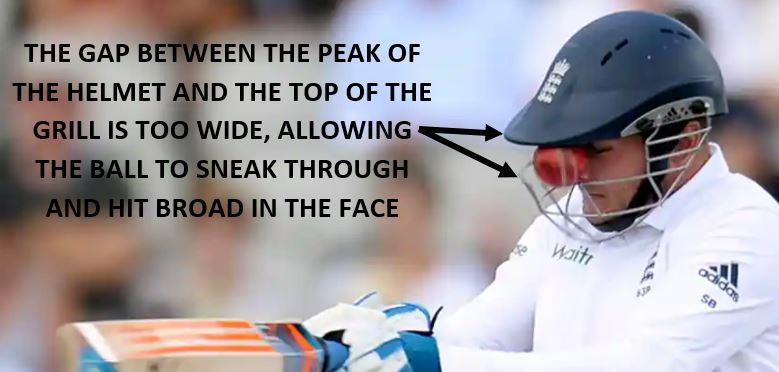 When purchasing your helmet, pay close attention to the information on the label or the box. Helmets that meet British Standard BS7928:2013 should have this clearly labelled somewhere, and they should also provide information regarding what types of cricket balls the helmet has been tested against. The types of balls used for testing usually falls into one of three categories:
Men's standard cricket ball size of 5.5 ounces
Junior's standard cricket ball size of 4.75 ounces
Both men and junior's standard cricket ball sizes
Make sure that the types of balls that the helmet has been tested against is applicable to the type of cricket it will be used in. If you'd like some more information about the safety standard, as well as a huge list of helmets that meet the standard – click the link here! I think it's quite a valuable resource.
Where Is The Helmet Kept When It Isn't Being Used?
Now that you've read most of this post, you should know that wicket-keepers will primarily wear a helmet when they are stood up to the stumps, and will switch to a cap or a hat when standing back to a fast bowler. So, the question that arises is – what happens to the helmet when it's not being used? Do they have to return it to the pavilion? Or can it be kept somewhere on the field?
When they are not using a helmet, wicket-keepers will usually place it on the ground 4 or 5 metres behind them. You can see an example of this in the photo below. By placing it here, it ensures that the keeper can retrieve it quickly and easily and use it during the next over. If the helmet had to be sent back to the pavilion in between each use this would take up quite a bit of time waiting for the 12th man to retrieve the helmet and run it back out again.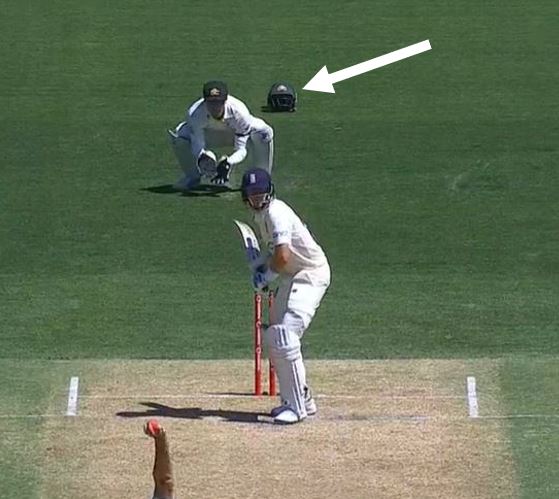 The downside to keeping the helmet on the field as I showed above is that if the ball accidentally makes contact with it, the batting side will be awarded five penalty runs. This is an obscure rule of cricket that not many people know about! If you're wondering why penalty runs are awarded when this happens, it is basically because the helmet could potentially obstruct the momentum of the ball if it were heading towards the boundary, and this could cost the batting side runs. Only fielders are allowed to stop the ball.
Conclusion
I hope this post has helped to answer any queries you may have had with regards to helmet-use by wicket-keepers. To summarise, I think it's very important for all keepers (but especially junior ones) to always wear a helmet when stood up to the stumps. I'm a firm believer that it's better to be safe than to be sorry, and if you take a blow in the face from a cricket ball when stood this close you'll definitely be sorry!
If you are stood away from the stumps and still don't feel comfortable without a helmet, feel free to wear one until you get more confident. However, wearing one whilst standing back isn't nearly as important as when you're stood up to the stumps. Most keepers prefer to take the helmet off and replace it with a standard baseball cap or a hat when they're in this position.
Wicket-keeping is an area of cricket that I've neglected on the site a bit so far, so I'll have more technical wicket-keeping posts coming soon. If you're interested in seeing those – keep an eye out!