The introduction of one-day matches and T20's into the cricketing universe has led to the emergence of all kinds of different techniques, skills and roles amongst cricketers. Slower ball bouncers, switch hits, pinch hitters and ramp shots weren't really part of the sport 50 years ago, but now we couldn't imagine it without them!
One of the most important cricketing roles that has leapt to prominence is the role of 'the finisher'. This is a role that all cricket teams will need to try to fill if they want to be consistently successful in limited overs matches. All of the iconic limited overs teams in the last few decades had great finishers – Australia in the late 90's/early 2000's, MS Dhoni's India, the West Indies double world cup winning side of 2012 – 2016, and England from 2015 to the present day. In this post I'll be describing what a finisher is, what skills they need to have and who I think are the best finishers the game has seen.
So, what is a finisher in cricket?
A finisher is a middle order batsman in limited overs cricket that is responsible for 'finishing' the innings during pressurised situations. Finishers are experts in getting their team over the line in tight run chases. They will also be able to end an innings with a flurry of boundaries when batting first.
Because the finisher will usually bat between number 4 – 7 in the batting order, there is a large variety of situations that they could find themselves in when they get to the crease. For example, their team may have lost plenty of early wickets, meaning that the finisher arrives at the crease with over half of the innings still to go. In this situation, they need to be able to accumulate runs calmly, keeping their wicket intact, and then launch a full-scale attack later once the innings is stabilised. On the other hand, they may arrive at the crease with 5 balls to go and needing 12 runs to win. Therefore, they will need to be comfortable coming to the crease and hitting boundaries from ball one!
Becoming a finisher doesn't just happen overnight! A batsman must perform consistently in these pressurised situations if they are to be regarded as an expert in this role. The more times that a batsman exposes themselves to tense end-of-innings situations, the more comfortable they will theoretically become with the demands of being a finisher!
Let's now have a look at some of the main skills that a finisher requires if they are to excel in the role.
What Skills Does A Finisher In Cricket Need To Possess?
There are several skills that I think all finishers will need if they are going to do a good job for their team. I'll go through each of them below…
The Ability To Play A Large Range Of Shots
To score plenty of runs at the end of the innings, you're going to need a wide array of shots that will help you to target the gaps in the field. Having a wider range of shots makes it harder for the fielding captain to set a field that will stop your flow of runs, because you will always have a shot up your sleeve that can exploit a gap.
Take Jos Buttler for example. In my opinion, he is a perfect representation of the modern 360-degree cricketer. He's played the finisher role for England in ODI cricket for many years now – with amazing success! He can hit fours and sixes to any part of the ground due to the wide range of shots that he possesses, and this makes him incredibly difficult to bowl to at the end of an innings when he is in attack mode. No matter what the fielding captain does, Jos has a shot to hit a boundary. If fine leg is brought up into the 30-yard circle, Jos will ramp the ball over his head. If long on or long off is brought up into the 30-yard circle, he will sit back in his crease and launch the bowler straight down the ground. He's an excellent player of both types of sweep, and brilliant at hitting boundaries on both the off and the leg side. He has every base covered from a stroke playing perspective!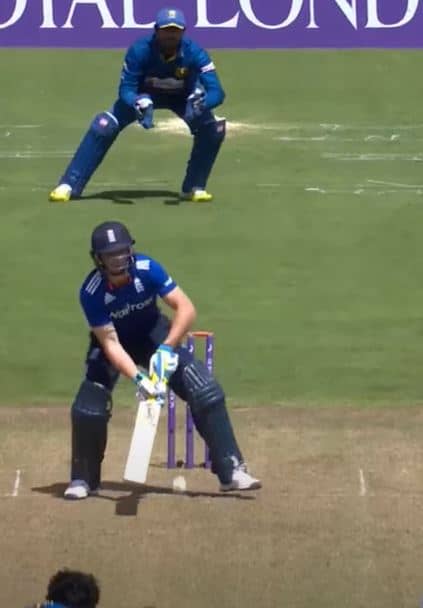 Batsmen who are more one dimensional than Jos will usually be a bit more limited in where they can strike the ball. More often than not, they will look to slog the ball into the leg side, which makes it a lot easier for a bowler to predict what they want to do, and to deprive them of that opportunity. One dimensional batsmen like this make less effective finishers because they don't have as many shot options that they can use to hit boundaries at the end of an innings! So if you're trying to develop your game and become a world class middle order batsman like Jos Buttler, start working on expanding your range of shots!
The Ability To Remain Calm Under Pressure
The mental side of finishing an innings is often more important than the physical/technical side. A batsman may have all the shots and all of the skill at their disposal, but if they don't have the emotional capability to stay calm and unemotional in those stressful situations – they're probably not going to make effective finishers.
At the end of an innings, things often come down to a battle of nerve between the batsman and the bowler. Whichever one remains the calmest and does the basics correctly will have the best chance of guiding their team to the victory. Batsmen like MS Dhoni are known for their ability to remain calm. When chasing down big targets he will often go for a long time without hitting boundaries and fall behind the required rate, but in these situations he doesn't panic and slog one straight up in the air. He maintains a level head and puts faith in his ability to catch up with the rate when the chase reaches critical moments.
Batsmen who get too stressed in tense situations don't make great finishers. They tire quickly because they expend more energy when nervous. They don't back themselves to hit boundaries against elite death bowlers. They pre-meditate their shots too much rather than watching the ball and trusting their ability to react. They mistime their shots because they are too anxious to feel bat on ball. None of these things are ideal when trying to finish an innings!
If you want to be a finisher, try to expose yourself to as many stressful scenarios as possible during practice and during matches. The more experience you can call upon, the better prepared you will be to stay calm under pressure in the future. I'd also recommend reading my guide on how to get rid of nervous energy whilst batting by clicking here!  
To Be Comfortable vs Pace & Spin
Batsmen who are regarded as finishers will often find themselves in situations where they need to bat through the middle overs of the match and then through the death overs too. In the middle overs batsmen tend to face quite a lot of spin bowling, whereas fast bowlers are the main types of bowlers they'll encounter at the end of the innings.
Therefore, a batsman who has the role of a finisher needs to be able to score runs effectively against both spin and pace bowling. A finisher who is obviously weak in one of these areas will soon find that opposition teams begin to target them by exposing them to their least preferred bowling style. For example, Glenn Maxwell is what many in the cricketing world would refer to as a great finisher. However, many opposition captains feel that they can target him with fast, short pitched bowling. They believe that he is much less effective when facing this type of bowling than he is facing spin, or fast medium bowlers.
A finisher needs to make sure that their batting skills are as well-rounded as possible. This will give them the ability to accumulate runs against spin and perhaps hit a spinner out of the attack. It will also enable them to annihilate the pace bowlers at the death! If you play the finisher role for your team and you're much more comfortable facing pace than you are facing spin, then you should go into overdrive when working on your batting against spin. The best finishers like Ben Stokes, MS Dhoni and AB de Villiers are equally capable of smashing pace and spin – and this is something that I believe all batsmen should strive towards.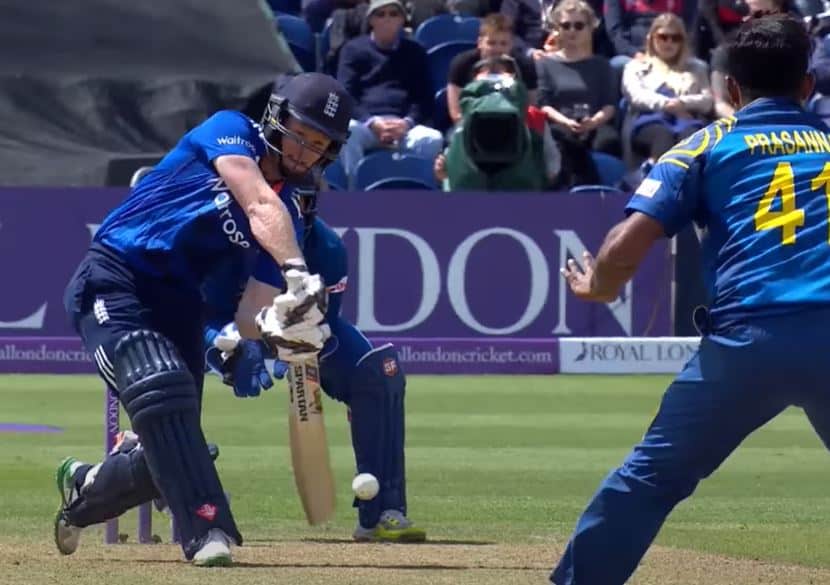 Power – The Ability To Clear The Ropes
Give how important boundaries are when trying to score quickly, it's very important that finishers are able to clear the ropes regularly and with ease. If a bowler knows that a batsman has the ability to hit sixes to any part of the ground, it puts them under a lot more pressure and can force them into mistakes. It also takes the fielders out of the equation! These days, most finishers don't worry too much about where fielders are located, they simply back themselves to launch the ball over the fielders' heads for a maximum.
When I think of the most powerful finishers, I think of guys like Liam Livingstone, Kieron Pollard and Hardik Pandya. Each of these batsmen are truly a nightmare to bowl to at the back end of the innings, and they are all capable of absolutely decimating quality bowling attacks. Kieron Pollard hit six sixes in an over earlier this year – which demonstrates his hitting ability. Liam Livingstone has hit some of the biggest sixes I've ever seen in the past few months, including one massive one against Haris Rauf which went over the new stand at Headingley stadium and onto the rugby pitch (click here to enjoy that one). And Hardik Pandya has played the finishing role to devastating effect for many years now for both Mumbai and India, launching some brutal attacks against opposition bowlers on the way.
If you're a budding finisher, I'd watch these batsmen closely and pay attention to the techniques that they use when hitting boundaries. I'd also make sure that you read my guide on how to hit a cricket ball further – which you can find by clicking the link here!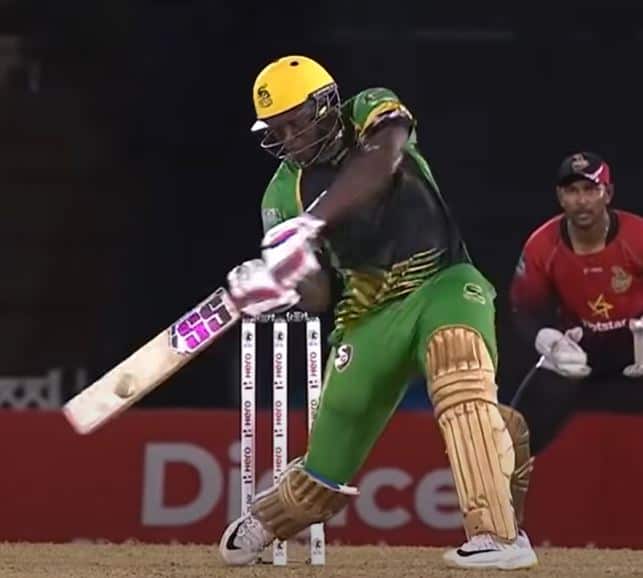 The Ability To Improvise
The best finishers have the ability to improvise and adjust to the bowlers plans at the end of an innings. At the death when dot balls are at a premium, bowlers will try all sorts of tactics to keep batsmen quiet. They will mix up their pace, bowl a mixture of yorkers and bouncers, bowl from wide on the crease, and try to bowl as wide as legally possible. When using these tactics, they hope that it will take a while for batsmen to adjust and therefore it will take them longer to find the boundaries.
Elite finishers have seen all of these tactics before. They can adapt quickly and play in unorthodox ways in order to score runs. For example, they will be very adept at moving around in their crease in order to create room on the off side or the leg side. If a bowler is bowling wide deliberately, they will move themselves across to the ball so they can hit the ball powerfully on either side of the wicket. They will play shots like the switch hit if the bowler is protecting one side of the field, or play the ramp if fine leg is up inside the circle. They will sit deep in their crease and adjust their grip on the bat to make it easier to strike yorkers to the boundary. They will try to put the bowler off by moving around in the crease before the ball is released. All of these are improvisational tactics and help the batsman to put themselves in a position to succeed at critical points of an innings.
Like I've mentioned previously, it's much easier to improvise in these situations if you've got plenty of experience of batting during tense run chases. The more you expose yourself to this, the better you will become at altering your game in order to overcome the strengths and tactics of the opposition bowlers.
Who Are Some Of The Best Finishers In The Game?
If you're a batsman who wants to become a great finisher, which professionals are the ones you should be watching and seeking to emulate? I've already talked about some of them in this post, but here's a list of who I consider to be the most elite batsmen to perform the role.
Michael Bevan
Michael Bevan played ODI cricket for Australia between 1994 and 2004 and established himself as arguably the worlds best limited overs batsman during that time. He is also what many people consider to be the first modern 'finisher', due to the number of times that he won matches for Australia at the death whilst batting with the tail. He was more known for his excellent ball placement and calm demeanour rather than his ability to hit sixes, and this is emphasised by the fact that he only hit 21 sixes in 232 ODI's. Bevan hit 6 centuries and 46 fifties whilst propelling Australia to two world cup wins.
MS Dhoni
A true modern great – MS Dhoni will never be forgotten by Indian cricket fans or cricket fans in general across the world. He is the embodiment of what it means to be a finisher in modern cricket. When he was at the peak of his powers, no opposition captain can have felt safe when Dhoni was striding out to the crease.
When watching him it almost seemed as if he has played the entire innings in his head before he got to the crease, such was his mastery of pacing his batting. Sometimes, he would accumulate runs so steadily that it would look like he was leading India to a loss – but just as spectators began crying out for boundaries, Dhoni would launch into action, timing his acceleration perfectly.
Dhoni's 'helicopter shot' was the perfect encapsulation of his innovative style of batting and displayed just how wristy and powerful his stroke play could be. His finishing skills allowed him to maintain an average of 50 across 350 ODI's – which is quite simply a remarkable feat. He amassed 10 centuries and a whopping 73 half-centuries whilst playing ODI's in Indian colours.
By far my favourite Dhoni statistic is that he averaged 102 runs when India were successful in an ODI run chase. This highlights just how important his finishing skills were to his Indian team when they were batting second. It's no surprise to me that India won both the T20 world cup and the ODI world cup whilst being led by Dhoni.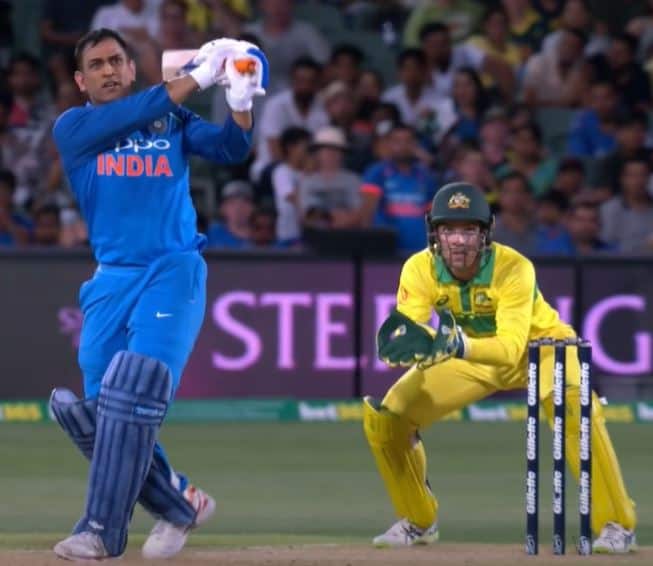 Jos Buttler
If you've read this post in full then I'm sure you've already gathered that I'm a big fan of Jos Buttler! However, he had to be mentioned in this section too! Not only do I regard him as one of the best white ball finishers ever, I also think he's one of the best overall white ball batsmen the sport has ever seen.
To put it simply, Jos has every shot in the book. He's a true 360-degree cricketer. His strong bottom hand and hockey background give him a powerful whip on his shots that propels balls over the rope with ease. And to add to all that, he never looks flustered when he's at the crease. In fact, sometimes he makes scoring quick runs at the end of the innings look too easy. I may be biased here, but there's no batsman I'd rather have on strike for the last over of an innings when you still need a few boundaries to win.
At the time of writing, Buttler has an ODI strike rate of 118 and a T20I strike rate of over 140 which emphasises just what a brutal striker of a ball he can be. He's hit 9 centuries and 20 half-centuries in 148 ODI's so far and has been a major figure in the England white ball side that has sought to dominate limited overs cricket since their disappointing world cup campaign in 2015. I'd definitely recommend checking out some clips of Buttler's innings' on youtube if you want to see how a real finisher goes about their business.
AB de Villiers
Like Jos Buttler, de Villiers is also a perfect example of a modern day 360-degree cricketer – so much so that many people refer to him as Mr 360! His explosive batting style in South Africa's middle order as well as the middle order of various T20 franchises around the world has gained him a huge fan base and level of popularity.
No matter what score South Africa were chasing, the opposition always felt like they were under threat whilst AB was at the crease. He averaged a very impressive 82 runs in successful ODI run chases for South Africa, which shows how instrumental he was to guiding his team home on multiple occasions.
Although he wasn't as physically imposing as a Kieron Pollard or an Andre Russell, he was just as much of a feared ball-striker. At the time of writing, AB can claim the fastest half-century (16 balls), the fastest century (31 balls) and the fastest 150 (64 balls) in ODI cricket. This is just one selection of stats that show how devastating he could be with the bat in hand.
Conclusion
Hopefully this post has given you a good insight into the role a finisher plays in a cricket team, and the qualities that are necessary to have if you're going to perform the role effectively. If you're playing that role for your team, then I'd recommend doing a few things. Firstly, watch some videos of the batsmen that I've mentioned above and get a feel for how they construct an innings, and how they try to attack bowlers at the death. Secondly, work on some of the things that I've mentioned in this article. For example, try and develop some new shots that you can use to target unorthodox areas of the field, and try to improve your ability to walk down the pitch to the bowler, or move around in your crease before playing a shot. Lastly, make sure you stick to the finishing role! If you want to become an elite finisher, you're going to have to make sure you bat in that position for many games and execute the role successfully time after time!
Good luck!