Back when I was a young, developing fast bowler, something that I remember being concerned about was my height. Like many other kids my age, I had a dream of playing professional cricket and was worried that if I didn't grow to be very tall, I wouldn't be able to achieve my goals. At the time I was watching fast bowlers like Glenn McGrath, Brett Lee, Steve Harmison and Andrew Flintoff regularly and trying to copy them – and all of them were well over 6 feet tall! I had a feeling that I was never going to be the same height as them, and that was a big concern for me.
Because I had these concerns early in my career, I know that plenty of other up and coming cricketers will have them too! However, as I've watched more and more cricket and gotten a fuller picture of what the game looks like, I feel like I've gained a much better appreciation of the importance of height for fast bowling. This is the knowledge that I'll be sharing with you today!
In this post I'll be discussing how tall fast bowlers should be, the typical heights of professional fast bowlers (with plenty of examples), the positives of being a tall or a short fast bowler, and I'll also provide some examples of fast bowlers that have succeeded at the elite level whilst standing below 6 feet tall. If that sounds good to you then make sure you read on!
So, how tall should fast bowlers be?
There are no strict rules on how tall a fast bowler needs to be in cricket. However, it is rare in the modern game to see an elite professional fast bowler that is shorter than 5ft 10 inches tall. At the amateur levels of the game height is less important, and as a result shorter fast bowlers find it easier to succeed.
One of the main weapons that a fast bowler has is the bounce that they can extract from the pitch. It is easier for taller bowlers to get the ball to bounce more, and this is why most of the top quality fast bowlers that you see in cricket are over 6 feet tall. Five of my favourite fast bowlers in the last few decades are Jimmy Anderson, Glenn McGrath, Josh Hazlewood, Curtly Ambrose and Morne Morkel. All of these bowlers are among the finest ever produced by their countries, and all of them stand well above 6 feet tall, meaning that in addition to their other skills such as swing and pace, they extracted plenty of bounce from the surfaces they played on.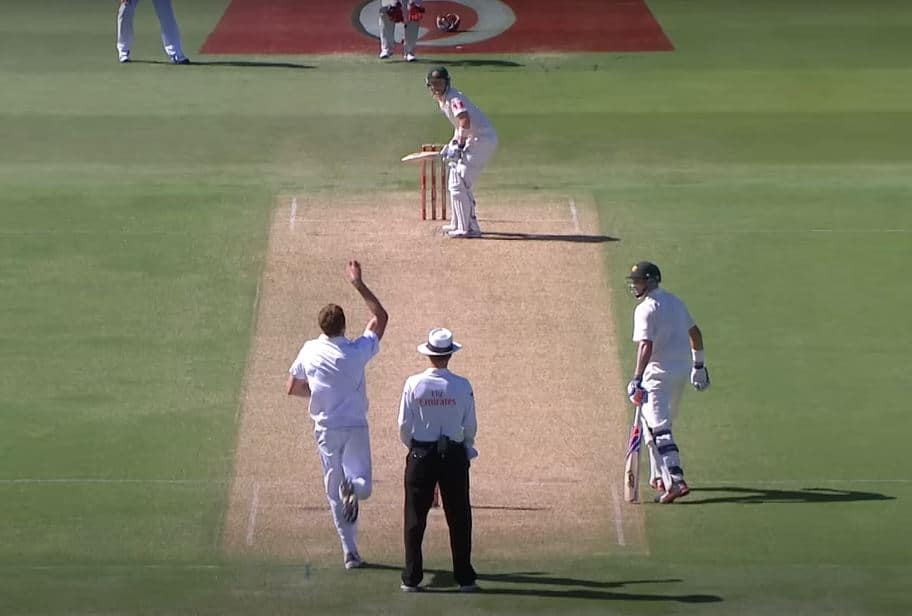 As I mentioned above, if you're a fast bowler that isn't very tall, you still shouldn't struggle too much to succeed at the amateur levels of the sport. If you have decent pace, accuracy and stamina, you'll still be able to play a starring role for most club sides. The importance of height simply increases as you move up through the ranks towards professional cricket. For example, when you move from amateur level to county/state level, you will see more fast bowlers that are slightly taller. Once you get to test level, the requirement for fast bowlers to have special physical attributes is even higher and as a result you'll usually encounter an even higher percentage of tall fast bowlers at that level. Basically, the higher the standard of cricket you play, the more important it is for fast bowlers to possess skills and abilities that separate them from the crowd and allow them to cause problems for batsmen, and this is why you see taller bowlers at test level.
Despite what I've said above, it's definitely still possible for shorter fast bowlers to excel at the highest levels of the sport such as test level. However, to do this, they usually need to have another elite skill to compensate for their lack of height. Often, the attribute that they rely upon in absence of height is raw pace. This is particularly evident when looking at players like Fidel Edwards and Kemar Roach during the early years of his career. Other bowlers that are slightly on the shorter side such as Vernon Philander and Chaminda Vaas would rely on their superior control of line and length instead.
What Are The Positives Of Being A Tall Fast Bowler?
In this post so far I've mentioned a few times that being a taller fast bowler may allow you to have a higher chance of success at the top levels of the sport. In this section we'll take a look at why…
Here are some of the positives of being a tall fast bowler:
You can achieve more bounce – If you're a tall fast bowler, the ball is released from your hand at a higher point. This means that the ball hits the pitch at a steeper angle and as a result it will bounce higher when it hits the pitch. Steep bounce is very difficult for batters to deal with and can lead to all kinds of misjudgements and mistakes.
Allows you to extract more seam movement from the pitch – When the ball is bowled into the surface of the pitch from a steeper angle, it allows the ball to disturb the surface of the pitch more than if the ball were delivered from a flatter trajectory. Disturbing the surface of the pitch can lead to seam movement, and it can also help to extract more movement from existing cracks and imperfections that have appeared on the surface.
More physically intimidating – A taller bowler is simply a more intimidating prospect for a batsman than a shorter one. When a batsman goes up against a tall bowler, they will immediately begin to worry about the bounce and pace they can achieve and how they are going to combat this. This can stop them playing as positively as they usually would, and can lead to mistakes.
What Are The Positives Of Being A Short Fast Bowler?
Being a shorter fast bowler comes with its own set of positives too. In this section we'll have a brief look at those…
The potential positives of being a shorter fast bowler are as follows:
You will bowl deliveries on a flatter trajectory – Bowling a flatter trajectory can be very challenging for batters on certain pitches and in conditions that are very favourable to swing (both conventional and reverse). Certain batters also find flatter trajectories very difficult to deal with, and will find your bouncer incredibly difficult to evade as they feel like they can't get underneath the ball
Can be more likely to get batters out LBW – Bowling a flatter trajectory also means that deliveries that hit the batter on the pad are much less likely to bounce over the top of the stumps. Taller bowlers like Kyle Jamieson and Curtly Ambrose are so tall that their 'normal length' deliveries will almost always cause the ball to go over the top of the stumps. They will have to bowl much fuller to avoid this. Shorter bowlers will be able to bowl a 'stump-hitting' length much more naturally.
Which Fast Bowlers Were Under 6 Feet Tall?
I know that many of you reading this post will be worried that you may not be tall enough to make it as a fast bowler in professional cricket. Although we've discussed that it is difficult to become a truly elite fast bowler without being over 6 feet tall – it's definitely not impossible. This is proven by the list of fast bowlers that I've put together below! This list comprises some of the most exciting bowlers to play the game, and also some of the most skilful. Take a look at the list and see if you can spot anyone you'd like to try and emulate:
Dale Steyn – 179cm tall (5 ft 11 inches) – Dale Steyn is one of the finest fast bowlers the world has ever seen, even though he stood slightly under 6 feet tall. His rare combination of extreme pace and the ability to swing the ball both ways made him a nightmare to deal with.
Vernon Philander – 175cm tall (5ft 9 inches) – Philander is one of the most underrated but effective bowlers that I remember watching in the last decade. His brutal accuracy was his main weapon. He was the ultimate examiner of batting techniques.
Jasprit Bumrah – 178cm tall (5ft 10 inches) – Bumrah is still in the peak of his career, and what a bowler he's proved himself to be thus far. He possesses extreme pace and is a massive threat with the old and new ball. His yorker is deadly too!
Mohammed Shami – 178cm tall (5ft 10 inches) – The man with the most perfect seam presentation in the world. He always looks a threat on any pitch that he bowls on, and has good pace combined with an ability to swing the ball.
Naseem Shah – 178cm tall (5ft 10 inches) – This youngster has quickly become one of Pakistan's leading pacemen, and what a bowler he already seems to be. He can bowl well above 90mph consistently and also has the ability to swing the ball. He'll probably end up being one of Pakistan's best!
Chaminda Vaas – 178cm tall (5ft 10 inches) – I saw the back end of this guy's career, and he was a relentlessly accurate swing bowler who was an even bigger threat due to his left arm angle! One of Sri Lanka's best ever pacers.
Jhye Richardson – 178cm tall (5ft 10 inches) – This guy is just beginning to find his feet at international level and he's also briefly starred in the IPL. Another very quick bowler out of the Aussie pace factory who can swing it at high speed. Looks like he'll be a star if he can break into the first XI ahead of Hazlewood Cummins and Starc.
Makhaya Ntini – 175cm tall (5ft 9 inches) – One of the most interesting bowlers I remember watching because of the angle created by his body position at the crease. Constantly angled the ball into right handers and away from left handers. He bowled at a good speed and was relentlessly accurate.
Mohammad Sami – 175cm tall (5ft 9 inches) – This guy looked like an impressive prospect when he burst onto the scene at the start of his international career, but that promise didn't turn into continued success. Even so, he was a short bowler who could bowl high pace and did so effectively at the top level for a number of years.
Sam Curran – 175cm tall (5ft 9 inches) – One of England's most promising youngsters. Doesn't possess high pace but can surprise batsmen with bouncers and a large array of variations, making him massively effective in limited overs cricket. His ability to swing the ball makes him a threat in test cricket too.
Shardul Thakur – 175cm tall (5ft 9 inches) – This guy has become a bit of a cult figure in world cricket and has quickly elevated himself to being a regular in the Indian national team. He doesn't have high pace but has a knack for breaking partnerships and can swing the ball
Bhuvneshwar Kumar – 175cm tall (5ft 9 inches) – One of the most skilful bowlers in the world at present, in all formats of cricket. He is very accurate and can swing the ball both ways at will. It's a surprise he hasn't had more success at test level, but he's a feared opponent in limited overs cricket with the new ball in hand.
Hasan Ali – 174cm tall (5ft 8 inches) – Another Pakistani fast bowler whose high pace compensates for his lack of height and makes him a threat on all types of pitches. His recent stint for Lancashire in the county championship was very impressive.
Kemar Roach – 173cm tall (5ft 8 inches) – The leading paceman for the West Indies for the last decade, Roach was capable of bowling extreme pace in excess of 90mph when he burst onto the scene. Since then he has modified his style, reducing his pace but becoming a more reliable bowler as a result. Particularly skilled at bowling at left handers, he's an expert with the new ball.
Tino Best – 173cm tall (5ft 8 inches) – An aggressive but erratic fast bowler who was capable of bowling above 90mph, the future was once very bright for Tino Best. He never quite conquered the international scene but could always put the fear of god into batters with his high pace.
Ajit Agarkar – 170cm tall (5ft 7 inches) – Played 26 tests and an impressive 191 ODI's for India, and was a very effective bowler at his peak. Despite his height, he could deliver the ball at very high speeds and regularly reached over 90mph on the speed gun.
Fidel Edwards – 165cm tall (5ft 5 inches) – One of my favourite West Indian bowlers to watch in the last couple of decades. Fidel Edwards was quite short at 5ft 5 but his slingy action made him one of the quickest bowlers in the world for a number of years. His control was not the best but his pace meant that he was always a threat, with the old ball or the new.
Remember, even if you're shorter than the bowlers on this list, it doesn't mean that you can't have an incredible cricketing career. Hard work and talent goes a long way, so continue working on your skills and increase the number of ways that you can benefit your team and you never know what you'll be able to achieve!
Conclusion
I hope that this post has helped you to understand that no matter what your height is, you can still be an effective fast bowler in the game of cricket. That being said, if you are bigger than 6ft tall you will have more chance of being successful at the highest levels of the game.
If you're a developing fast bowler, it's best to not worry about things like your height as this is something that is uncontrollable. Instead, work on making yourself the quickest, most accurate bowler you can possibly be and develop some quality skills such as the ability to swing the ball and a good slower ball. Also, don't forget about your batting! It's much easier to get a spot in a cricket team if you can bat as well as bowl, so making yourself into a bit of an all rounder will be massively helpful to your cause.
If you want to learn how to bowl faster, click the link here. Also, if you want to learn how to bowl more accurately, I have a post that will teach you how to do that and you can read it by clicking here! There are plenty of other posts on the site that will help you become a better player so I hope you find something useful. Enjoy!