Cricketers need a variety of different types of equipment to be able to play the sport properly as well as safely. For someone that is just starting to think about playing the sport seriously, finding all the different equipment you need to get started can feel like a tough task! I've spent a bit of time putting together this post that will hopefully help you know what you will need, and why you will need it! I'll start with the essentials, the stuff that all cricketers will need!
The items of equipment that cricketers will definitely need to purchase are as follows:
White Clothing
Cricket Bat
Helmet
Batting Pads
Cricket Shoes
Batting Gloves
Batting Shorts
Abdomen Guard (Box/Cup)
Cricket Bag
In the rest of this post I'll go more into depth about the things you should consider when purchasing these items! Then we'll move on to look at some more items which pretty much down to your own personal choice (as well as your remaining budget!)
The Essential Equipment
White Clothing
White is the colour that cricketers have worn while playing cricket for centuries, and although coloured clothing has gradually entered the game and become popular in the last few decades, the longer forms of the game like test cricket still feature the classic white clothing. At lower levels of the game including junior and amateur cricket, white clothing is still worn predominantly so you'll definitely have to purchase some! They will be available from most sports retailers – in store and online!
For the upper body, a simple white cricket shirt is usually worn. This shirt can either be long-sleeved or short-sleeved, depending on weather conditions! If you have the funds available, it's often a good idea to buy both a long-sleeved and a short-sleeved shirt just so you have all your bases covered! Adult cricket shirts made by popular brands like Adidas can usually be picked up for around £20 and under, and this goes for both men and women. Junior cricket shirts are obviously even cheaper! Oh, and a little side note for anyone who is reading this and lives in England: You'll probably be wearing the long-sleeved shirt more often than not!
As for the lower body, white cricket trousers are the way to go. Take care to ensure that they are not too long before you buy them, no-one wants to be tripping over themselves during a game! Cricket trousers tend to rise up the leg when you wear them with pads while batting, so don't buy any that are too short either! Strike the right balance! Again, these are available from all the major sports shops, and you can pick up some top brands (Adidas and Gray Nicolls included) for male and female players for £20 or less.
Cricket Bat
I'd be willing to bet that most of you reading this will already know that you need a bat to play cricket! All of the players on a team have to bat at some point no matter how good they are at it! Therefore, it's important to get yourself a cricket bat that's well suited to you and will allow you to play to your full potential. Your next question may be…'how do I pick a bat that suits me?' And if you want to know the answer to that question then I'd strongly recommend reading the in-depth guide that I wrote covering that exact issue. Click here to read it! In that post I go into cricket bat considerations based on your height, strength and budget among other things…and I think you'll find it very informative if you're still looking to buy your first bat!
Helmet
Helmets have become essential for cricketers in the last few decades, and it's vital that we use them in order to stay as safe as possible while batting! Helmets are also used by wicketkeepers when they're up close to the stumps, and can also be used by anyone fielding close to the bat. Helmets you will see in cricket consist of the harder 'shell' section, which covers the top of the head and forehead, as well as the grille, which protects the face and sides of the head. Recent additions to helmet designs include the 'stemguard', which can be attached to the back of the helmet and is used to further protect the upper neck/back of the head area. This can be seen in the photo below.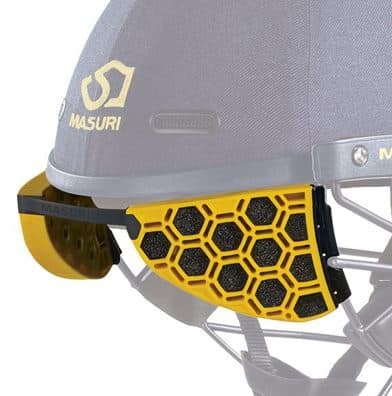 There are a variety of different brands and styles available, so everyone should be able to find a helmet that suits them. Certain ones just feel more comfortable than others! For me, one thing I hated in a helmet was the gap between the grille and the peak of the helmet not being wide enough. I liked to be able to see through the gap and not feel like my vision was being blocked by the grille while I was batting! The possible width of the gap is limited because you don't want a cricket ball to be able to fit through there, but I always liked it to be as wide as possible.
I'd say that most players will be able to buy themselves a perfectly suitable helmet for around £30 – £80. Some helmets are a lot more expensive than that, such as some of the Masuri helmets that are made from titanium. This is a very strong and robust material and this is what you would be paying the extra money for. A helmet like this would probably cost more than £150! Basically, it all comes down to personal preference!
If you're choosing to buy a helmet online then you will need to read about the sizes very carefully. I'd also recommend getting a tape measure and measuring the circumference of your head! To do this place the tape measure around your head just above the ears and across the mid-forehead. Once the tape measure is wrapped around your head entirely, mark the point where the two ends meet and you will have your head measurement! Most places selling helmets online will have a size guide that you can check against to make sure you're purchasing the right size for you!
Batting Pads
Pads in cricket are primarily used to protect the knees and shins while batting. They are attached to the front of the lower legs using Velcro straps, and have arches at the bottom so that they comfortably fit over the shoes of the player.
Obviously batting in cricket requires a lot of movement, so pads need to be as comfortable as possible. The highest quality pads are able to protect us and keep our lower legs safe, as well as maintaining a lightweight feel, making them easy to bat and run around in. Buying these high-quality pads will eat into your budget a little bit more, but it's definitely worth it if you value free movement at the crease. 
Again, there are many different styles of pad, compromising different heights and thicknesses as well as different designs and patterns on the front. A good way to judge the size of a pair of pads, is that your knees should usually align with the 'knee roll'. The knee roll is the thickest part of the pad, and can often be easily noticed because it will feature a horizontal pattern rather than a vertical one.
I'd recommend having a browse of some cricket stores online and doing some research to find out which pads would suit you the most! In my opinion, most of the value for money when buying batting pads for adults can be found in the £40-£120 range, and whichever type you pick will obviously depend on your budget. For juniors, the average price of pads is a bit less and you'll probably find the most value in the £20-£60 range. Look out for online sports retail stores with review sections because this is a very good way to find out more information about the products including quality of material, comfort and other such things.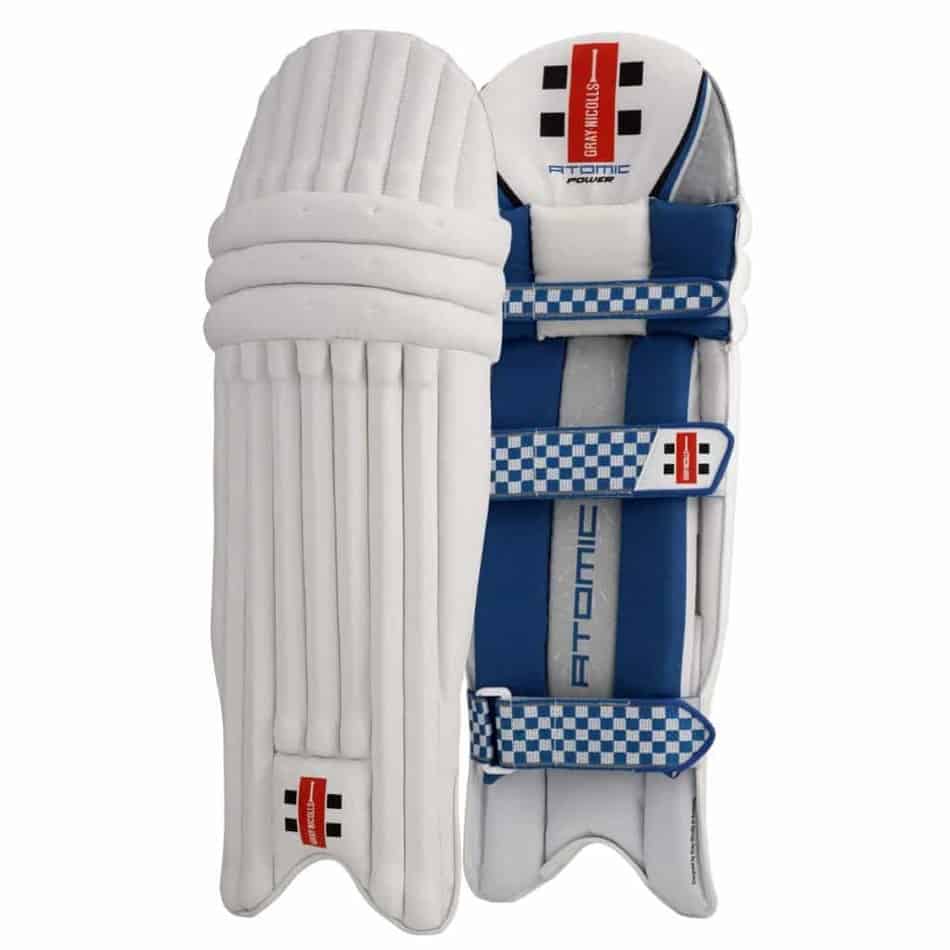 Cricket Shoes
It's important to get yourself the right footwear to play cricket in. Playing cricket in the wrong type of footwear can lead to injury, as well as you being much less effective as a player. Cricketers use specialist cricket shoes that look very similar to standard trainers. The difference is that specialist cricket shoes are much sturdier and offer the player a lot more support. They will often also feature spikes on the bottom surface, which are pretty much essential when you're playing outdoors on a real grass wicket. Bowlers can also buy boots that are made specifically for them, which offer a lot more ankle support as well as an increased displacement of force.
There are a high number of specialist cricket shoes available, with certain ones being more suitable to different types of cricket, and different types of player. There may be a style of shoe that is more suited to your needs than another! If you want to find out all about cricket shoes and which ones would be most suitable for you, then why not read an in depth introductory post that I wrote on that very topic by clicking here!
Batting Gloves
You don't want to start batting without a proper pair of batting gloves! Unless you want to experience some serious injuries! Anyone that has been hit on the hand by a delivery from a fast bowler will know how painful it can be…and that's even while wearing gloves! But that emphasises the reasons that we wear them.
Batting gloves consist of a thinner fabric section which the hand goes inside, as well as large protective bits of material that are located on the tops of the fingers. These large protective sections are often made of high density foam, which allows the gloves to absorb a lot of the impact that is caused when you get hit by a quick delivery. Batting gloves come in a range of sizes, for junior players as well as adults. Gloves that are more expensive will generally be made out of higher quality materials, making them lighter as well as stronger and more durable. The weakest parts of batting gloves are often on the palms. Some of the cheaper batting gloves will often degrade in this area and need to be replaced!
Most of the good quality batting gloves will fall into the £20-£80 price bracket. If you want some recommendations on which gloves to buy, I've written a very detailed post which ranks 5 of my favourite pairs based on comfort, protection, and price as well as other factors. If you'd like to read that post, click here!
If you play cricket a lot, and bat against fast bowlers, you will probably want to look at gloves that are towards the top of this price range and get a pair that will protect you better, as well as last for longer. If you aren't someone who plays that often, and you don't play cricket at a very high standard, then maybe it's not as necessary to buy an expensive pair!
Take care to select the right pair of gloves for you. There are multiple sizes of gloves available to suit all players, such as small junior, junior, youth, small adult, adult and over size adult. Smaller sizes of gloves will usually cost a little bit less than adult sizes. If you're buying online, most websites should include a size guide where they will instruct you to measure your hands to see which size is right for you. The measurement of the hands for batting gloves is usually taken from the wrist to the tip of the middle finger! You will also have to consider whether you're a left or right-handed batsman. If you're left-handed, you will need batting gloves specifically for left handers. Right handers will benefit the most from right-handed gloves. Left-handed gloves will have extra protection on the left thumb, and you will see the same thing on the right thumb for right-handed gloves.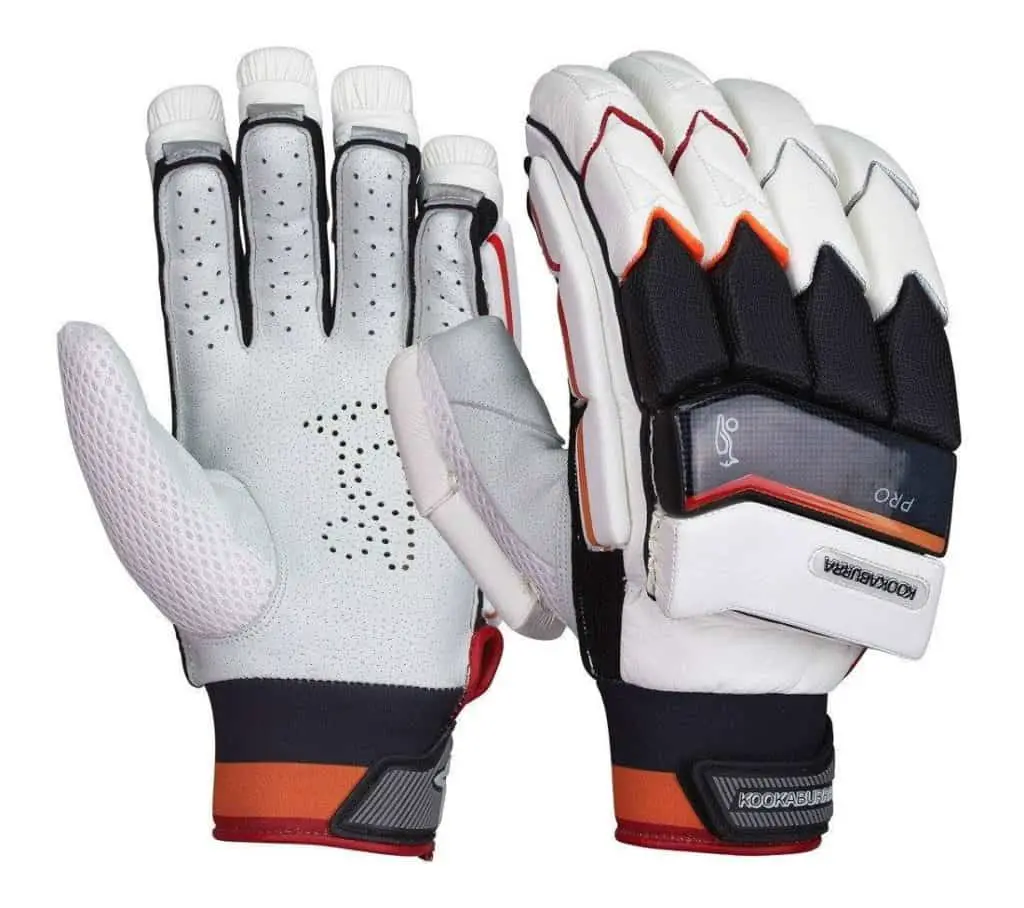 Batting Shorts
Batting shorts are essential in my view because they allow the batsman to wear a lot of protective equipment at the same time. The shorts themselves are usually quite long, often just a bit shorter than knee length. They allow the player to insert equipment such as an outer thigh guard, inner thigh guard, and an abdomen guard into pouches that are contained within the fabric of the shorts. I'm a big fan of wearing batting shorts while at the crease because without them, if I wanted to wear an outer and inner thigh guard I would have needed to wear two separate straps attaching each to my legs. I always preferred to feel free and natural when I was batting so having these straps attached to me was not my thing!
There are a number of different styles of batting shorts, coming in different sizes as well as offering different pouches for you to put your protective equipment in. Some only offer space for the abdomen guard, whereas others will cater to the full range of guards. I tend to advise a player to buy the shorts that offer you the full range of options as they don't cost that much more. You can pick up a good quality pair of batting shorts for anywhere in the range of £10-£25!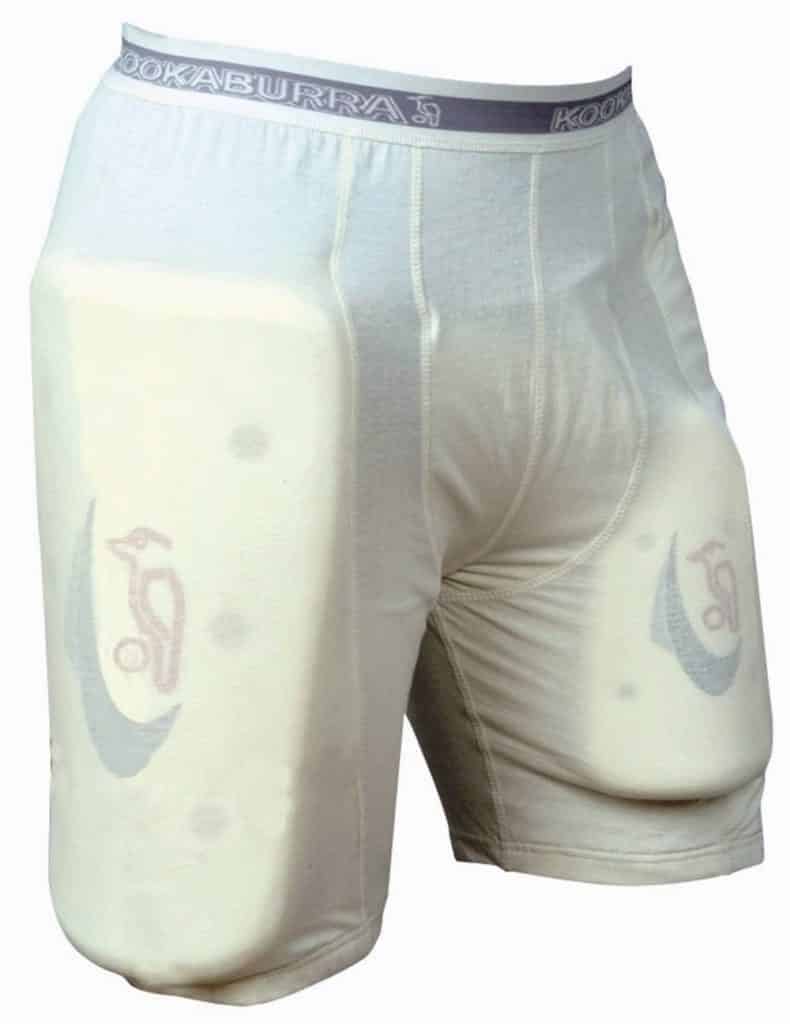 Abdomen Guard (Box/Cup)
Abdomen guards are an absolutely essential piece of cricket equipment, and are often referred to as a 'box' or 'cup'. Used by both males and females, they protect our sensitive areas in the pelvic region! Anyone who has taken a hit in one of these sensitive areas will know the pain that is involved, and therefore the abdomen guard has been arguably one of the most important cricketing innovations.
Abdomen guards are relatively small items, but they're available in a range of sizes to cater to all players. Certain designs of the abdomen guard allow it to be attached to the player via straps that go around the hips, whereas some do not include straps, and are inserted into a pouch in a pair of batting shorts or jock strap. As I said earlier, I think they're much more comfortable when inserted into a pair of nicely fitting batting shorts. Abdomen guards are also relatively cheap, and can be bought for around £5! Trust me, this will be a worthy investment!
Cricket Bag
After you've bought all of your essential items, you're obviously going to need somewhere to store them and a way of moving them around! This is where you'll need a cricket bag.
This is becoming a common theme throughout this post but cricket bags also come in a wide range of different styles as well as sizes, and there really is something that will suit the needs of all players. The first consideration to make is how much space you will realistically need to accommodate all of your equipment. Many of the larger bags come fitted with more internal compartments so that you can separate certain bits of your kit. For example, you may not want to put your cricket shoes in the same compartment as your bat, as the spikes on the shoes may damage it! You may also want a separate compartment where you will store any wet clothing etc. So have a good think about this before you make your purchase.
You'll also have to consider whether you want your bag to have wheels and a handle so it can be pulled around, or if you want to be able to carry it with straps. For larger bags carrying heavier loads, in my opinion you should always look for one that comes with a set of wheels. You don't want to tire yourself out carrying a cricket bag around on your shoulder before a game! Bags that come with wheels will more than likely have straps installed anyway so they can be carried if totally necessary.
One thing to make sure of when making your purchase is that the bag is made from a good material! The last thing you want is your bag to tear easily, or water to get inside easily. Water soaking through into your bag can be very harmful to cricket gear. This is especially true when it comes to your cricket bat! A large amount of moisture soaking into the blade of the bat can cause it to rot, making it much less effective in future! Thankfully, most cricket bags are very water resistant.
Cricket bags can be bought from most sports retailers and will usually cost around £20+. Bags will often get more expensive as you go up in size, and you will often see improvements in the types of materials used, making the bags more durable. If you're interested in buying a cricket bag for yourself or as a gift, you should probably click here and read my post where I examine 8 of the best available cricket bags on the market!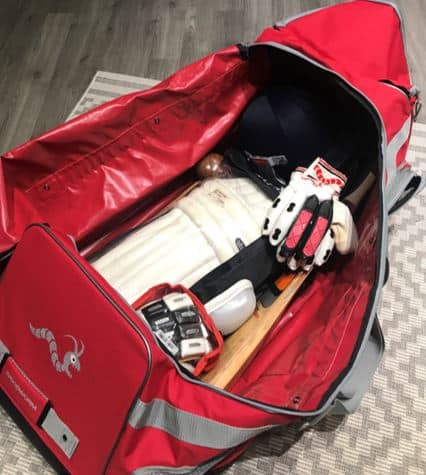 Optional Equipment
Arm Guard
Arm guards are worn by batsman to protect the forearms from being struck by a sharply rising delivery. Arm guards are worn on the arm that is facing the bowler when in your batting stance. For left handers, this is the right arm, whereas with right hand batsmen it is the left arm. This is because this is the arm that is facing the is in closest proximity to the ball and is therefore more susceptible to being hit.
Arm guards are attached to the forearm using two (often Velcro) straps, one at the bottom of the guard, and one at the top. The guard itself is usually constructed from some kind of high density foam, and fits tightly to the curvature of the arm.
There are a range of sizes available, as well as a large number of brands to choose from. You can usually buy a good quality arm guard for somewhere in the region of £5-£20.
Thigh Guard
A lot of batsmen will choose to wear a thigh guard (also known as thigh pad) to protect against being hit in that area by particularly fast bowlers. Taking a hit on the thigh can be incredibly painful and if could affect your movement for the rest of your innings!
The thigh guard is worn on the front leg, which is the left leg for right handers and the right leg for left handers. You'll have to select whether you're left or right handed before you make your purchase as there are subtle design differences between the two! The thigh guard should be big enough to cover the majority of the thigh, so you will also have to make sure that you select the right size for you. Most thigh guards that are made by popular cricket manufacturers will be available in at least 2 sizes – youth and adult. Some brands may also have additional sizes for youth and adult players so that the player can achieve a more personalised fit.
The guard itself can be secured in a couple of ways. You can either buy one that has Velcro straps attached and use these to attach the guard to your upper leg, or you can buy one without any straps and insert it into a pair of batting shorts as I mentioned earlier in this post. Youth sizes will often cost around £10, and adults will usually be a little more – in the region of £10-£20.
It's worth noting you can also buy an all in one set of thigh guards, containing the conventional thigh guard and the inner thigh guard mentioned below. Both of the guards come attached to a waist belt and are also secured to the thighs using Velcro straps. This type of all in one thigh guard will likely cost you around £30-£40.
Inner Thigh Guard
Batsmen can also choose to wear an inner thigh guard. This helps to protect the thigh of the back leg (right leg for right handers, left leg for left handers).
Inner thigh guards are slightly smaller in size than your standard thigh guard mentioned above, and cover a large part of the front of the thigh as well as the inside portion. When purchasing one of these guards you should make sure that you select one that is appropriate for your batting style. The designs differ slightly depending on whether you are a left-handed player or a right-handed-player. So make sure you ask about that before you buy!
They are available in a range of sizes to suit all batsmen. These include numerous youth and adult sizes. Buying a youth size will often cost under £10, whereas for an adult size you'll probably be expecting a price somewhere in the region of £10-£20. Also, as I said in the section above, you can choose to buy one with or without Velcro straps, but if you buy one without then you'll need to purchase some shorts to insert the pad into!
Bat Mallet
A bat mallet is an item that is used during the incredibly important process of 'knocking-in' a cricket bat. The mallet is often made from wood, and will have rounded edges on its head, so that it does not dent and damage the face of the bat. The mallet is used to hit certain parts of the bat which are – the front face, the sides and the toe. This helps to compact and compress the wood grains in the bat, making it more durable and resistant to impact as well as cracking. Because knocking-in is such an important part of bat preparation, I would really recommend reading my guide that gives you a detailed walkthrough of how to complete that task properly! Click here if you'd like to read that!
There is very little variation in design for bat mallets, and as long as they are made by one of the reputable cricket equipment manufacturers they should be perfectly suited for the job. You can usually buy them for under £10!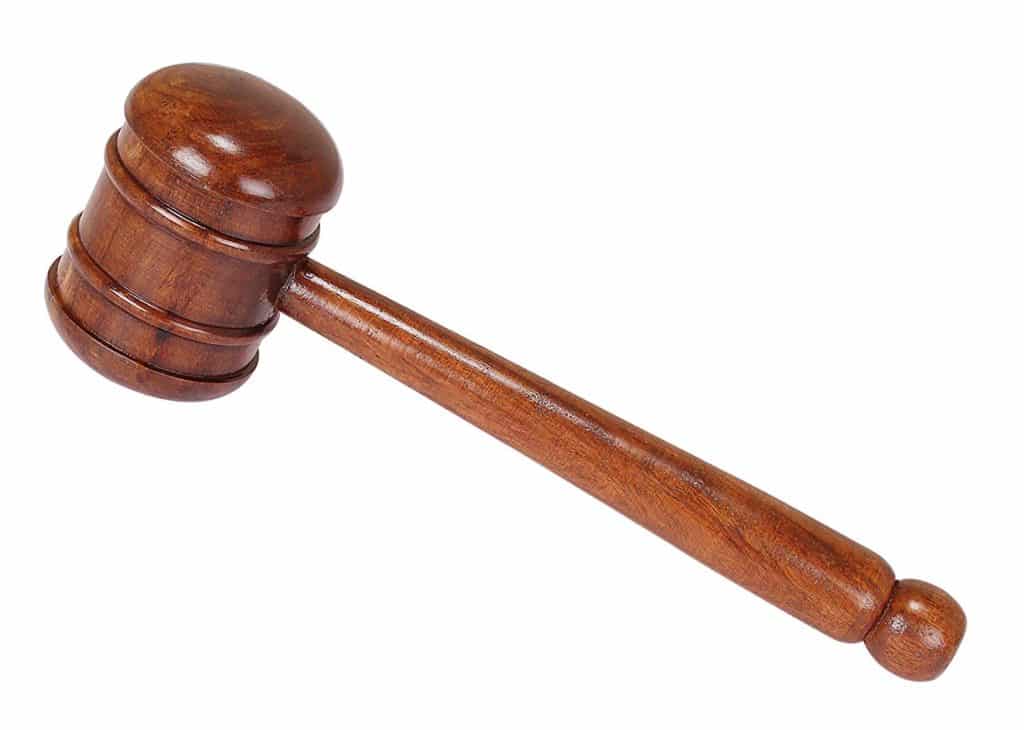 Chest Guard
Both male and female players may choose to invest in a chest guard to protect their upper torso from being struct by fast bowling. In my experience, I've not seen many players at junior/amateur level wearing chest guards but depending on the level of competition that you're facing they may be a wise purchase!
Traditional cricket chest guards are placed primarily on the side of the chest that is facing the bowler, and are attached via a strap that is secured around the opposite shoulder. Females on the other hand may choose to purchase a chest guard that looks like and operates in a similar way to a sports bra.
Obviously, both of these selections will come with the usual size considerations and again, most online cricket retailers should offer size guides that will help you choose the appropriate piece of equipment, so make sure to look for those! Most cricket chest guards can be bought for around £15-£30.
Sunglasses
I'm sure no-one needs me to thoroughly explain the benefits of sunglasses…so I'll keep this part brief. When playing cricket on warm and sunny days sunglasses are used by fielders to keep the sun's glare out of the eyes. Anyone that has tried to take a high catch on a sunny day when not wearing sunglasses will be able to tell you how difficult that is, and that is one of the reasons I always make sure I have a pair with me when the weather is good! 
They are also incredibly useful if you happen to be playing cricket at night on a ground that is being artificially lit by floodlights. The floodlights have exactly the same effect as the sun does, and if we happen to look at the lights while trying to catch a ball without a pair of sunglasses on, it makes it much harder!
I would recommend buying specific sports sunglasses if you are going to be wearing them during matches, not just the standard ones that you'll buy when you're going abroad to sunbathe! There are a variety of different designs of cricket sunglasses available, and I would always recommend trying them on before purchase to confirm that they fit the face of the player. There is a very large variance in price for cricket sunglasses! For those of you on a tighter budget, you should be looking at the lower end of the prices, which is usually around £20-£40. Finally, for those of you willing to fork out a little extra cash for a higher quality product, there are some that are in the range of £100-£150. 
Keep in mind that wearing sunglasses while fielding can take some getting used to because of how they alter our field of view as well as the colours that we see. However, once you've worn them long enough you should find that your eyes will adjust and you'll be able to play to your usual standard. Some sunglasses even offer different lenses that allow us to see better in different conditions, so keep an eye out for those!
Sun Cream
Our skin can be damaged by prolonged exposure to the sun if we don't have the proper protection! When playing cricket at any level there's a high chance you may spend a lot of time fielding, with no shade from the sun. Therefore, it's always a good idea to have some sun cream in your bag to help stop you from getting burnt.
Any sun cream will do, just make sure it's of a high enough 'factor' or 'strength' for your skin. If you're someone who burns easily in the sun, you will want to buy sun cream that has a higher factor number. You can pick sun cream up from any pharmacy as well as any popular health and beauty retail store, and there are many different sized bottles available. Obviously, the price of sun cream depends on the size of bottle that you buy but you should be able to select something suitable for around £5.
A Hat/Cap
In my opinion it's always a good idea to have some sort of headwear in your cricket bag for use on sunny days in the field. While it isn't an essential item, it's handy for helping us keep the sun's glare away from the eyes as well as the face.
There are a couple of different styles of headwear that you'll see cricketers wearing predominantly. These are the cricket cap and the sun hat. The sun hat style is larger and has a peak that runs around the entire hat. The cricket cap is pretty much the same as a traditional baseball cap, which has the peak at the front of the head.
The choice between these two types of headwear comes down to individual preference, and you'll be able to purchase a good quality hat in either style for somewhere in the range of £5-£20.
A Base Layer (Skin)
A base layer is simply an extra layer of clothing, but base layers used in sports like cricket are often referred to as 'skins' and are made out of very tight and thin materials. These materials help to 'compress' the body and that is why you'll often see these items of clothing being referred to as 'compression clothing'. They can be worn on the torso or the legs, and as you're about to see, they can have an amazing effect on our performance as well as our bodily state!
Wearing compression clothing while playing sport allows your muscles to be squeezed slightly by the tight nature of the material. This helps to promote blood flow to the heart and can reduce the build-up of lactic acid in the muscles. A reduction in lactic acid allows will allow you to play harder, for longer, and also enable you to recover faster after a day of cricket! In addition to all that, the materials that base layers are made out of can help us to stay cooler when we're warm, or help us conserve heat when we're in cold weather. They also help you to stay dry while sweating because they promote sweat evaporation through the material!
Compression base layers are available in all the normal clothing sizes, and some are a lot more expensive than others. If you're interested in buying yourself some of these items, I'd once again try to stick to the respected cricket brands, which have somewhat lower prices than the dedicated compression clothing manufacturers. You should be able to pick up compression shirts (long sleeve & short sleeve) as well as shorts and leggings for roughly £20 each.
Wicket Keeping Gloves
Only wicket keepers need to have these gloves, so that's why I've put them in the optional section. These gloves aren't as heavily padded as batting gloves, and the padding that they do have is more focused on the palms of the hands rather than the backs of the hands when it comes to batsmen. Wicket keeping gloves are also usually a bit looser fit on the hands than batting gloves, and they do not have a Velcro strap to tighten them around the wrists. The other significant difference is that wicket keeping gloves have an extra piece of material between the thumb and the index finger, which helps keepers to catch the ball cleanly.
The design of wicket keeping gloves is very similar no matter what brand you choose to go for, but there is a huge range in prices. The large difference in prices is caused by the different materials used during the creation of the gloves. The more expensive gloves will offer greater protection and comfort as well as feeling lighter whilst you are wearing them. In my opinion you can get a quality pair of wicket keeping gloves for somewhere in the range of £30-£100, but cheaper as well as more expensive options do exist.
Make sure you select the right size gloves. To repeat what I said earlier about batting gloves -there are plenty of sizes available to suit all players, such as small junior, junior, youth, small adult, adult and over size adult. If you're buying online, most websites should include a size guide where they will instruct you to measure your hands to see which size is right for you. The measurement of the hands for wicket keeping gloves is usually taken from the wrist to the tip of the middle finger!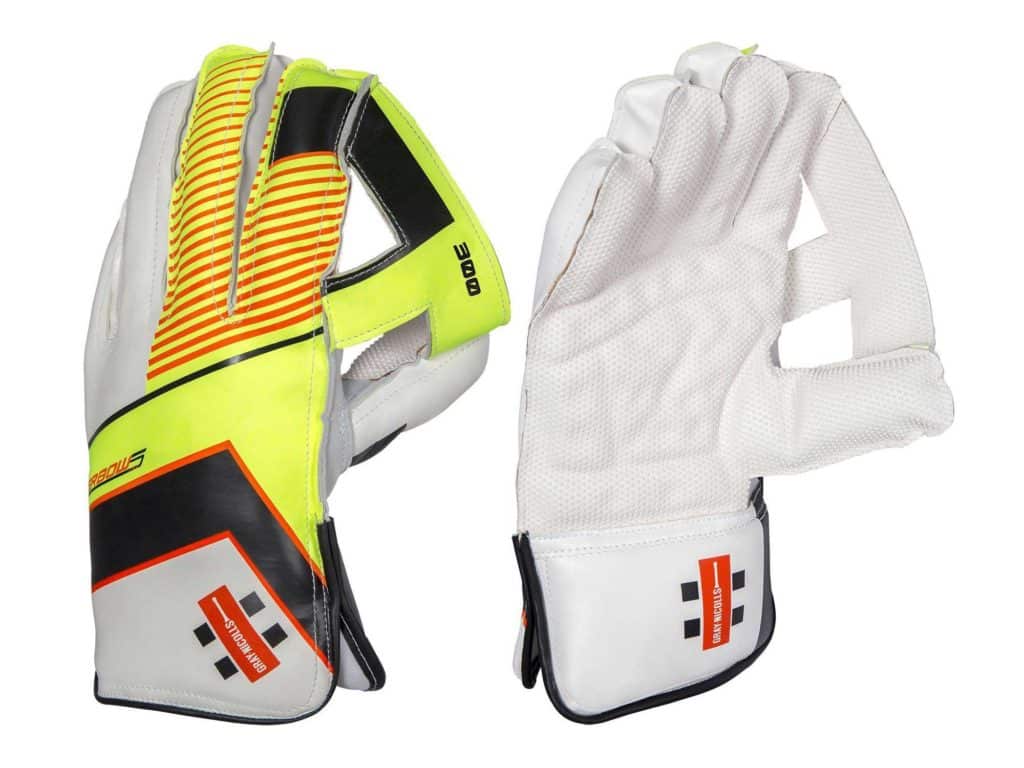 Wicket Keeping Pads
For any of you out there that are wicket keepers, this is one for you. You'll need a set of pads specifically for wicket keeping that are slightly different in design to your batting pads! Wicket keeping pads are not quite as big as batting pads, and the flap that sits above the knee is usually a bit smaller. Therefore, they are a bit lighter and easier to move around in!
When buying these pads as opposed to batting ones, the same principles apply. Ensure that you are buying a comfortable pair that are easy to move (and jump) around in. Wicket keeping is one of the most mobile jobs in cricket, and you'll need to be constantly on the move. Your pads must allow you the freedom to dart around! Also make sure that they are big enough for you, and that they go over the knee, protecting it from impact.
On the whole, wicket keeping pads are a bit less expensive than batting pads. In adult sizes you should expect to be spending in excess of £40, with junior sizes usually costing a little bit less than that.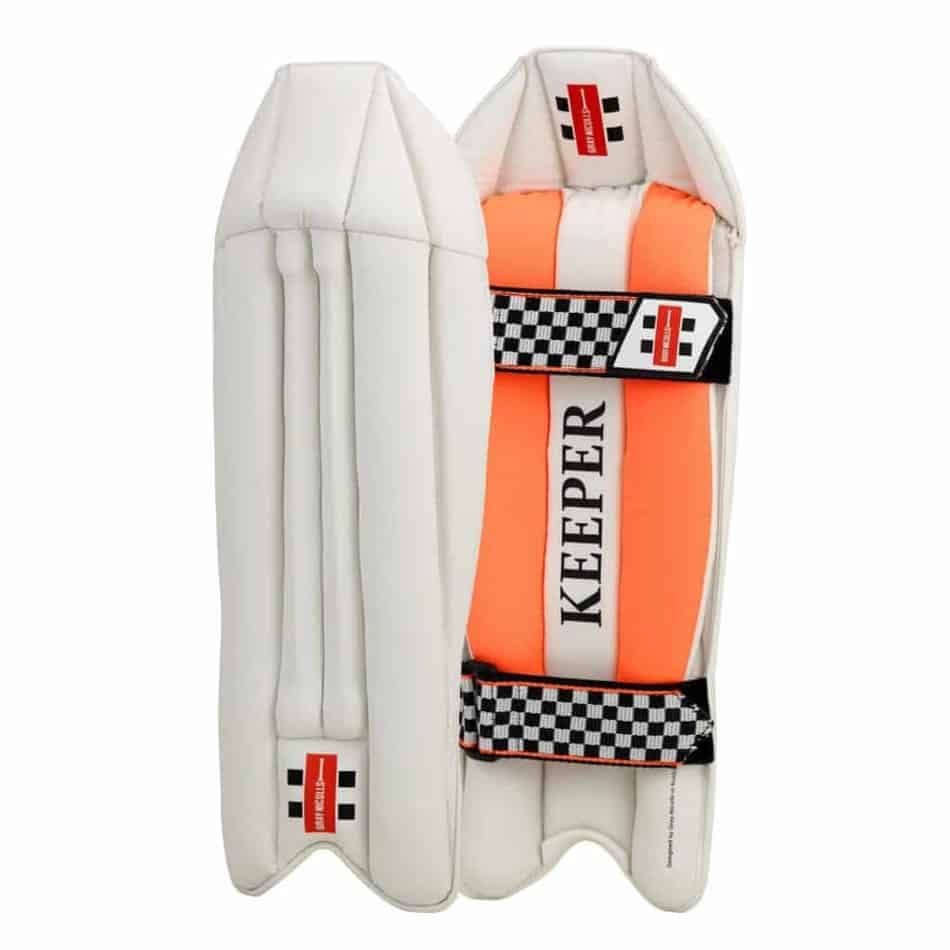 Cricket Balls
Sometimes it's a good idea to keep a few extra cricket balls in your bag just in case you need them. These are useful during practice sessions when you are bowling and also handy if you want someone to give you a few throw downs prior to you going out to bat in a game. I tend to keep 2 or 3 balls in a small pocket in my cricket bag, and I often try to keep them in different conditions. One of them new and shiny, one of them in 20-30 overs old condition and one in a very worn and degraded condition. This helped me when bowling in the nets as I could work on my skills with each individual ball and try to take wickets with them.
Cricket balls are available from most sports retailers, and again there are large variations in price. Expensive cricket balls will generally have a better surface finish and will shine better than less expensive ones. If you want to work on your bowling skills – like being able to swing the ball, then it's important to buy yourself a good one! In my opinion, you can get a really good quality cricket ball for around £15-£20. Although there are cheaper as well as more expensive options available these are perfectly suitable for bowling in the nets! I tend to go for the Dukes or Kookaburra balls, as these are the brands that are used in test matches!
Some stores will offer you the option of buying multiple cricket balls in a pack. These are often not as good balls in terms of the quality, but they are definitely very useful if you're a batsman who is primarily using them during your throw down sessions.
Bear in mind that there are different sizes of cricket balls that are used in men's, women's and junior cricket. The prices mentioned above were for men's cricket, whereas balls in the junior or women's game may be slightly less expensive. When looking to buy cricket balls for women's or junior cricket, make sure that they are the right size before you purchase! No one wants to be bowling with a ball that is too big for them!
Gum Shield (Primarily For Wicket Keepers)
Some wicket keepers or fielders stationed close to the bat will choose to wear a gum shield as an extra layer of protection in case the ball travels near their mouth. Even though these players will be wearing helmets, accidents can happen! So, a gum shield is a good option for players that are often found in those dangerous positions.
Gum shields are mouldable and will fit around the top set of teeth, providing a layer of protection in case of impact. They are not very expensive, you can get a good quality gum shield for around £5 or under!
A Set of Stumps
Some players will want to purchase their own set of stumps so that they can practice batting or bowling away from their organised club net sessions. There are many different styles of stumps that you can buy, and some are more suitable for home use than others!
Firstly, there are the standard stumps used during professional games. These can only be used on real grass wickets as they have to be physically inserted into the ground. Not everyone has the option to practice on surfaces like that, especially during winter, so that makes the use of these stumps a bit more limited. If you're interested in buying these, you'll be looking at a cost somewhere in the range of £20-£50. There are also some size considerations you will have to consider. The stump height in junior cricket will often be around 25 inches, whereas the height in adult cricket is around 28 inches. Make sure you select the correct size of stumps for your age range!
Next, we have 'spring loaded' stumps which are my personal favourites! I got bought some of these when I was around 15 years old and they were so useful to practice with. Spring loaded stumps feature the standard 3 stumps mounted onto a solid base. Each stump is fit with a spring so that when it is hit, it is returned to its original position. Since they are mounted on this solid base, they can be used on any surface, not just grass – making them much more versatile than the first option! These stumps will cost you a little extra, usually anywhere between £25 and £60. It's up to you whether the extra cash is worth it for the added versatility!
Finally, you have plastic stumps. These are just as versatile and can be used on as many surfaces as spring loaded stumps since they're often mounted on a plastic base. As they aren't made from as high-grade materials, they will cost a little less! So, for those of you looking to stick to a tighter budget, these may be the stumps you want to select! You can get your own set of plastic cricket stumps for £10-£30.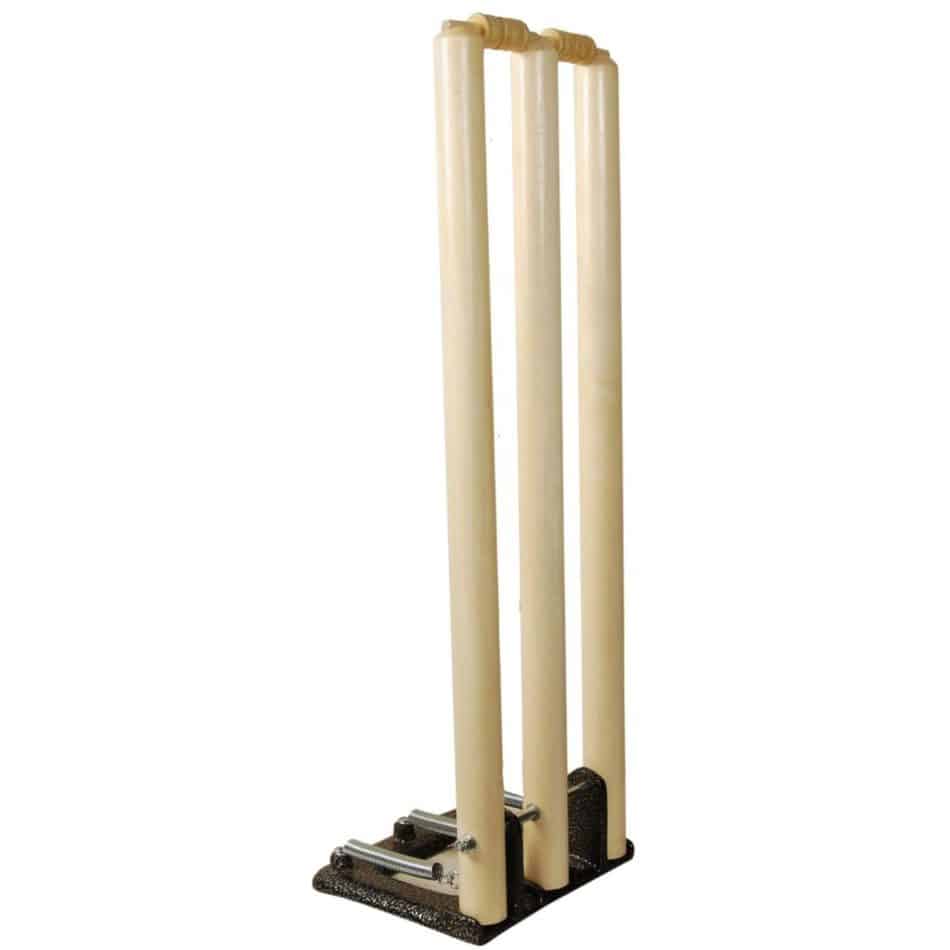 A Bowling Machine
A bowling machine is probably the most expensive investment a cricketer could make, but they're also one of the most effective ways to practice your batting, especially at home! If you have the money available and you're very serious about cricket, I would strongly recommend purchasing one.
Bowling machines are used to simulate deliveries from bowlers, and in some cases, they can even replicate certain bowling phenomena such as inswing and outswing. They allow the user to set the speed of bowling that they would like to face, as well as the line and length. This means batsmen can use bowling machines to work on very specific aspects of their game. Plus, as it is a machine, your practice sessions can last as long as you like! You will no longer be reliant on having a partner to bowl to you, you just might need that person to feed a ball into the machine! Note: Some bowling machines do not require a person to feed balls into the machine as they come with their own multi-ball feeding equipment. It is all done automatically!
To use a bowling machine at home here are a few things you will probably need:
A power supply – Some bowling machines have batteries but others will require access to mains electricity.
A flat surface – bowling machines use large stands for stability, so you'll need a relatively large flat area on which to place the machine. As well as a flat area where the ball is going to be delivered.
Enough space to cover the length of a cricket pitch – A standard cricket pitch is about 22 yards (20.12 metres) long, which means the bowling machine should be placed roughly this distance away from the batsman. You'll also need a bit of extra space at each end to make sure the standing room of the bowling machine is accommodated as well as a bit of space behind the stumps.
Appropriate balls for your machine – Most bowling machines aren't compatible with normal cricket balls. Instead they will require you to purchase specific bowling machine balls. Make sure you look into this and find out which balls you have to buy before purchasing your bowling machine.
Cricket Matting – You may wish to purchase some cricket matting that can be laid down to mimic the surface of a pitch. This can be quite expensive!
A Batting Net – This isn't an essential item if you buy a bowling machine, but sometimes it will help during your practice sessions. A batting net basically surrounds the batsman and makes sure that when a shot is played, the ball does not travel too far away – making them easier to collect afterwards.
All of the protective equipment required for batting – Just because we are facing a machine, you still need to protect yourself. Make sure you're always wearing full protective gear when using your bowling machine.
As bowling machines are very expensive items, there are only a few main companies that manufacture them. Let's look at BOLA first. BOLA are probably the market leader in this department, but their advanced and sophisticated bowling machines can cost up to and above £2000! These are the types of bowling machines that you will see cricket clubs buy rather than individuals that are looking to practice in their back garden. They have an incredible amount of swing and spin settings, as well as adjustable speed increments up to 95mph! Put simply, if you can afford one and have the necessary facilities available, these are amazing machines to practice with.
The other bowling machines I'd like to focus on are the Paceman models made by Dimension Sport. These bowling machines are a lot more affordable compared to BOLA, but as a result, they're not as technologically advanced as the BOLA machines. Most of the Paceman bowling machines that I've seen online have ranged from around £200-£900. Those to the more expensive end of the scale come with lots of swing and spin options, as well as offering the capability of higher speed. The most expensive Paceman bowling machine is capable of firing down deliveries at over 100kph (62mph), whereas some of the ones towards the lower end of the price scale (£200-£300) only offer speeds of up to 95kph (59mph). This makes them more suited to junior cricket! You can also buy add-ons such as the automatic ball feeders. Due to the affordability of the Paceman machines, I'd definitely recommend these over the BOLA machines for home use. Have a browse of through the Paceman bowling machines and see which one would be best suited to your ability and budget.
Conclusion
I hope you found what you were looking for in this post! Once you get all of your equipment purchased you can skip to the good part of cricket which is actually getting into the nets and putting it into use! Good luck!